Syrian Prime Minister Wael al-Halqi escaped an assassination bid on Monday, surviving a blast that targeted his convoy in Damascus, Syrian state television reported.
In comments released by the state news agency SANA but not shown on television, Halqi was quoted as condemning the attack as a sign of "bankruptcy and failure of the terrorist groups," a reference to the rebels battling to overthrow Assad.
The blast shook the Mazzeh district soon after 9 a.m. (0600GMT) and sent thick black smoke into the sky. The Britain-based Syrian Observatory for Human Rights said one man accompanying Halqi was killed as well as five passers-by.
State television showed firemen hosing down the charred and mangled remains of a car. Close by was a large white bus, its windows blown out and its seats gutted by fire. Glass and debris were scattered across several lanes of a main road.
"The terrorist explosion in Mazzeh was an attempt to target the prime minister's convoy and Dr. Wael al-Halqi was unharmed," state television reported.
It later broadcast footage of Halqi, who appeared composed and unruffled, chairing what it said was an economic committee.
State TV quoted Syria's Information Minister Omran al-Zoubi as saying that targeting al-Halqi, who is in charge of carrying out the political program to end Syria's crisis, shows that some in the opposition "reject a political solution."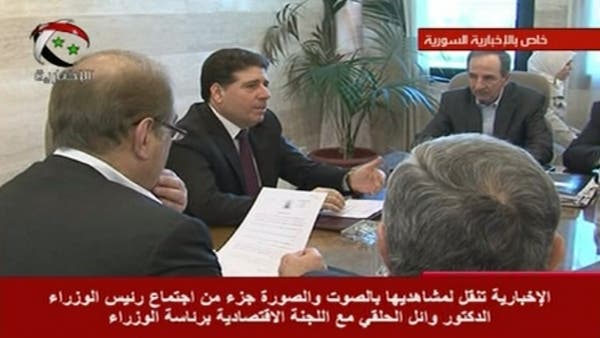 The Observatory reported that a car bomb targeted Halqi's convoy as it passed through the Mazzeh district of Damascus.
Director Rami Abdel Rahman told AFP that the bomb appeared to have been detonated from a distance.
State television said the explosion happened near a public garden and a school in the neighborhood, a well-secured district that is home to embassies, government buildings, intelligence facilities and several political figures.
"Children cried and immediately hid under their desks as I rushed to lock the classroom door," Bassel Laham, a teacher at a school near where the bomb went off, told Al Arabiya.
Another resident, who spoke on condition of anonymity, said: "I was in my car heading to work when I heard a loud noise and looked in my rearview mirror and saw a large cloud of smoke."
An AFP photographer at the scene said several vehicles were destroyed in the blast, including a bus burned out by the explosion. The windshields of other cars nearby were also blown out.
State television al-Ikhbariya broadcast footage of Halqi attending a government meeting, but without indicating whether the images were from after the attack or not.
Mazzeh is an upscale neighborhood in western Damascus, home to a number of senior regime figures.
Halqi was appointed prime minister in August 2012 after his predecessor Riad Hijab defected to the opposition.
The last major attack in Damascus was on April 9, when a massive blast killed at least 15 people in the center of the capital.
Some of the groups fighting with the opposition to President Bashar al-Assad's regime have resorted increasingly to the use of car and suicide bombs to target senior government figures.
In July 2012, a suicide bomb attack killed Syria's defense minister and deputy defense minister and left the country's interior minister seriously wounded.
Chemical weapons
Assad has lost control of large areas of northern and eastern Syria, faces a growing challenge in the southern province of Deraa, and is battling rebels in many cities.
But his forces have been waging powerful ground offensives, backed by artillery and air strikes, against rebel-held territory around the capital and near the central city of Homs which links Damascus to the heartland of Assad's minority Alawite sect in the mountains overlooking the Mediterranean.
As part of that counter-offensive, Assad's forces probably used chemical weapons, the United States said last week.
U.N. Secretary-General Ban Ki-moon said Monday that a team to investigate the use of chemical weapons in Syria was currently in Cyprus awaiting Damascus' permission to enter, Al Arabiya correspondent reported.
The United Nations said in February that around 70,000people had been killed in Syria's conflict. Since then activists have reported daily death tolls of between 100 and 200.
Five million people have fled their homes, including 1.4million refugees in nearby countries, and war losses are estimated at many tens of billions of dollars.
For a complete guide to top Syrian figures from Assad's power circle, visit Al Arabiya's Lion's Den.