A strategic southern town in Syria has been captured by regime forces from rebel fighters, opposition fighters told Reuters news agency in the early hours of Wednesday.
The town of Khirbet Ghazaleh, situated in the Hauran Plain on the highway to Jordan, was captured after a Jordanian-backed Syrian opposition military council failed to supply weapons to the town's defenders, according to the report.
The town in strategic in that it is likely to allow Syrian President Bashar al-Assad's forces to regain control of the transit route.
Two months ago, opposition fighters of the Free Syrian Army cut off the highway to Jordan
"But keeping the road off-limits to Assad's forces depended on retaining Khirbet Ghazaleh, which is at a crossroads leading west to the contested city of Deraa," the report added, citing opposition sources.
About 1,000 rebel fighters withdrew from Khirbet Ghazaleh on Wednesday after losing hope that reinforcements would come from Jordan, which has been cautious about provoking a military response from Assad, activists and opposition fighters said.

"Assad's forces started advancing from the north and west and I can still go back to Khirbet Ghazaleh but I cannot do anything," Abu Yacoub, commander of the Martyrs of Khirbet Ghazaleh brigade, told Reuters by telephone from Hauran.

"I can get a thousand fighters back but it is useless because I don't have ammunition in my hands."

Abu Yacoub said he had contacted Ahmad Nemaah, head of the Jordanian backed military council, before ordering the rebel fighters to withdraw, but Nemaah told him he could not do anything.

"If we lost a battle it does not mean we lost for good. But everyone has turned against Nemaah," Abu Yacoub said.
'Negotiated' solution
On Tuesday, the United States and Russia agreed to push both warring sides in the Syria conflict to find a negotiated solution and to hold an international conference in search of peace.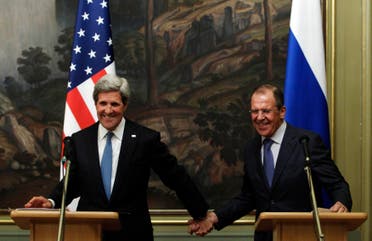 Russia has long accused the West of worsening the Syria conflict by seeking to topple the Assad regime, and says Moscow is solely interested in seeing a peaceful solution to a conflict that has claimed more than 70,000 lives since March 2011.
Visiting U.S. Secretary of State John Kerry held hours of talks with President Vladimir Putin and then Foreign Minister Sergei Lavrov lasting late into the night in a bid to narrow the differences between Moscow and Washington on the conflict.
"We agreed that Russia and the United States will encourage both the Syria government and opposition groups to find a political solution," Lavrov told reporters at a concluding news conference that ended after midnight.
Lavrov added they agreed on the need to hold "as soon as possible" an international conference on Syria to convince both rebels and the regime to accept the terms of the Geneva accord agreed by world powers last June for a peaceful solution in Syria.
He said the conference should take place "if possible by the end of this month."