A Yemeni man on a mission to "save the Quran" has perhaps picked up more than he'd bargained for, after finding more than 3,000 discarded copies of the Islamic holy book over the past five years, piling them up at his home.
Every day, Qanaf Badi sorts through trash cans in the Yemeni capital Sana'a to find abandoned copies of the holy Quran and other materials that carry the name of Allah, or God in Arabic.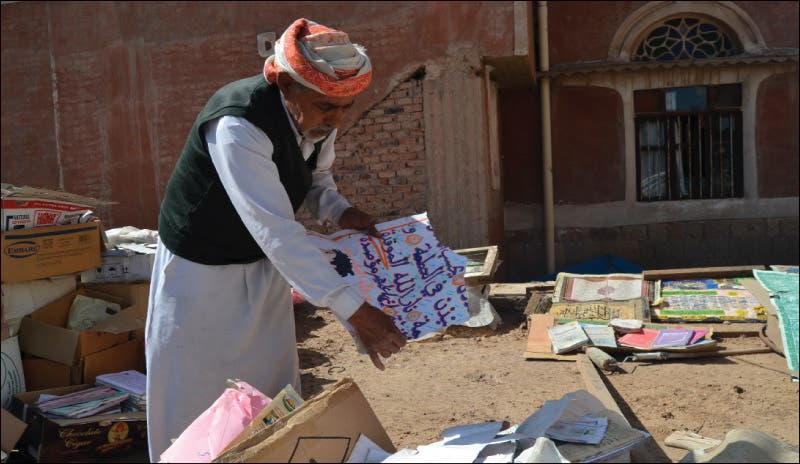 "I've been doing this since the end of 2008. I get out after the morning prayer, or anytime really, and I walk to search for them [copies of holy Quran]. I feel very happy when I find some and I take them with me to the house," Badi told Reuters news agency this week.
"I feel very happy when I find a paper that carries the name of god in the trash, even if it is very small," Badi, a former textile factory worker and a father of three, added.
At the end of each day, Badi takes the discarded Qurans he has collected back home, much to the frustration of his family who argue that their home has become a storage place for thousands of Qurans and other religious items.
"My mother always yells and asks my father where will he find the space for all the books he collects. She asks him not to put any in the bedrooms. She says to him, you have filled all the house, the rooms, and the shelves with books," said Samah Qanaf, Badi's daughter.
But Badi is also determined to not keep the Qurans at home, saying he hopes to fix as many as possible in the hope of sending them to schools and mosques.
Meanwhile, Sheikh Jabry Ibrahim, an instructor at the Ministry of Endowment, said the Quran shouldn't be discarded in any way.
"Abandoning the Quran is a crime in itself, let alone throwing it in the trash or on the street. This is unacceptable," he told Reuters.
Muslims believe the Quran was revealed to Prophet Mohammed during his lifetime.