The seven Egyptian security personnel kidnapped by suspected militants in Sinai have been released and are on their way to Cairo, an Egyptian army spokesman confirmed on Wednesday.
"The seven kidnapped Egyptian soldiers are on their way to Cairo after their release thanks to the efforts of the Egyptian military intelligence in coordination with the elders of the tribes and families of Sinai," he said.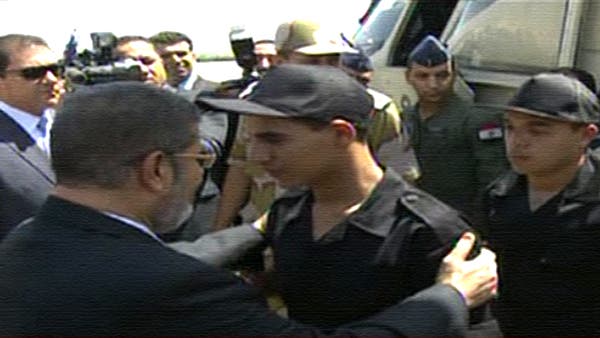 Four border policemen working at the Rafah crossing, a riot policeman, and a military border guard were abducted on Thursday by armed men who are demanding the release of a group of prisoners held at a police station in the North Sinai town of el-Arish.
The kidnappers were heavily armed with SAM anti-aircraft missiles and heavy machineguns, Interior Minister Mohamed Ibrahim said.
Egypt exerted "intense efforts" on Tuesday to secure the release the seven captured security personnel, the prime minister said, as witnesses spoke of increased military movements in the Sinai peninsula.
"There are intense efforts on all fronts for the return of the captured conscripts safely," Hisham Qandil said in a statement carried on the official MENA news agency.
On Monday, the presidency said all options were on the table to secure the men's release.
Mursi was at the Almaza airforce base, where a host of officials including the ministers of defense and interior joined in an official ceremony to welcome the seven.
Mursi, Egypt's first civilian president, embraced and kissed each one of them as they disembarked from a military helicopter. Prime Minister Hesham Qandil and Defense Minister Abdel-Fatah el-Sissi were also on hand to receive the men.

Mursi later thanked the armed forces, security agencies as well as the people of Sinai and their tribal chiefs for their efforts to secure the release of the seven men.

He said efforts to free them provided an "example to follow of cooperation, planning, execution and of how the nation's interests come first." The president also vowed to hunt down the kidnappers, saying "there will be no going back on bringing the criminals to account."

"This event will be a departure point for all of us to solve the problems of Sinai, its people and to develop Sinai," he said.
Following the release of the security personnel, the Rafah border crossing between Egypt and the Gaza Strip reopened on Wednesday, five days after its closure by Egyptian police angered by the kidnapping of seven colleagues, witnesses said.