Israeli sources say Syria has not received a shipment of an advanced Russian air defense system on Thursday.
Syrian President Bashar al-Assad claimed that Syria received its first shipment and will soon obtain the rest of the S-300 missiles, a Lebanese daily quoted him saying on Thursday.
"Syria has received the first shipment of Russian anti-aircraft S-300 rockets," Lebanese newspaper al-Akhbar quoted Assad as saying in an interview due to be broadcast later in the day, Reuters said. "The rest of the shipment will arrive soon."
An interview with the Syrian president will be released on al-Manar channel, owned by Shiite militant group Hezbollah, who is known to be an Assad ally.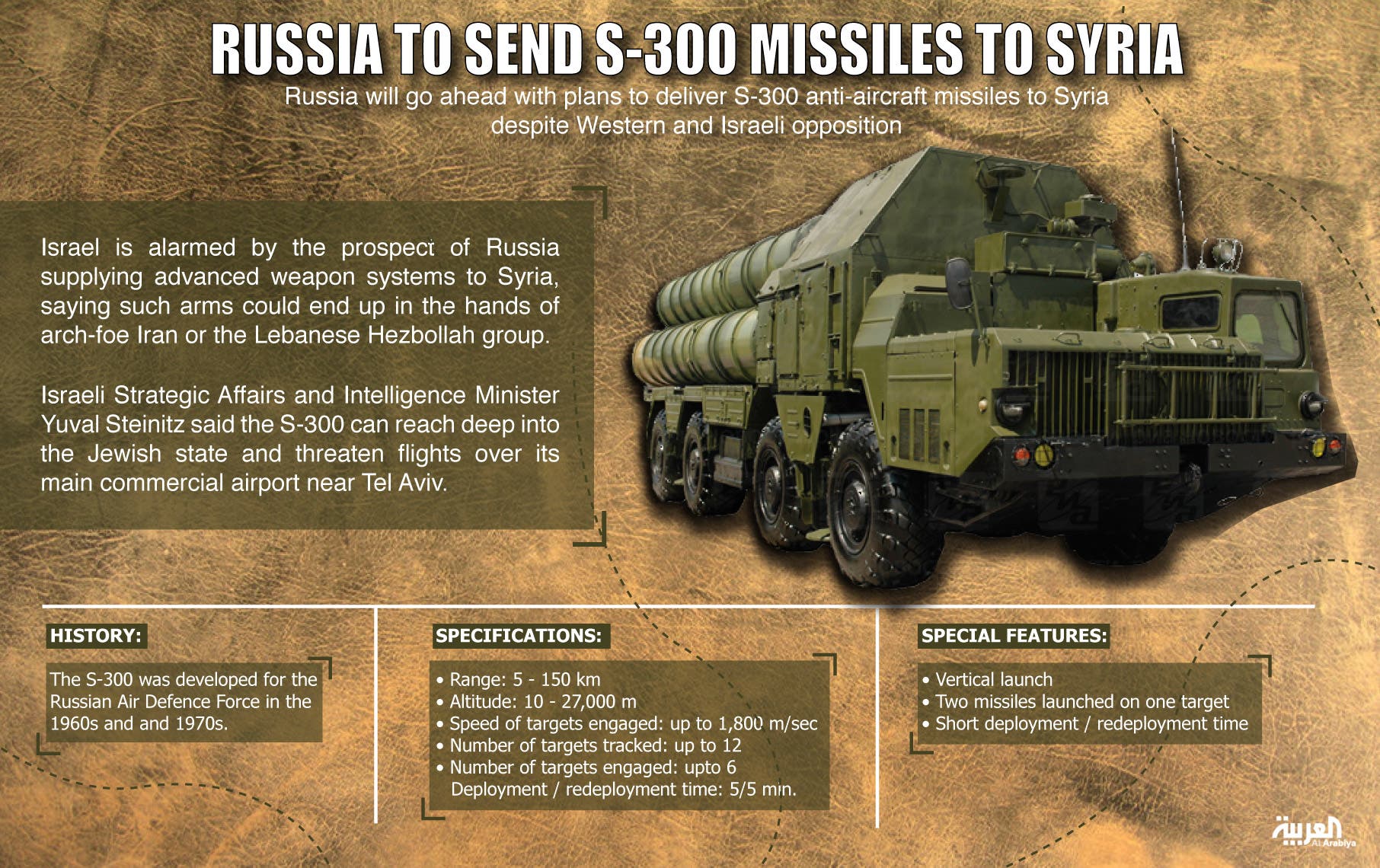 Russia has said it would deliver the missile system to the Syrian government over Western objections, saying the move would help stabilize the regional balance.

The United States, France and Israel have all called on Russia to stop the delivery.

Moscow, ally of Assad's government, appeared to grow more defiant after the European Union let its arms embargo on Syria expire earlier this week, opening up the possibility of arming the rebels battling to topple the president.
Moscow says the lapsing of the EU embargo complicates U.S. and Russian-led efforts to set up a peace conference between theSyrian government and its opponents, who want an immediate end to four decades of Assad family rule.

The Syrian leader said he planned to go to the "Geneva 2"conference, al-Akhbar reported, though he was unconvinced of a fruitful outcome and said he would continue to fight militants seeking his ouster.
Al-Akhbar said Assad also stressed ties between his forces and Hezbollah militants now openly fighting on the Syrian side of the Lebanese-Syrian frontier.
"Syria and Hezbollah are part of the same axis," al-Akhbar quoted him as telling al-Manar "The Syrian army is the one fighting and leading the battles against the armed group, and this fight will continue until all those who are called terrorists are eliminated."
Israel 'checking' shipment reports
Israel is looking into reports on Thursday that Syria had received the first shipment of the advanced Russian air defense system S-300, an Israeli official said.

"I have no information beyond what has been reported, which we are looking into," the official told Reuters on condition of anonymity.
Officials in Israel, the United States' main ally in the region, say the S-300 could reach deep into the Jewish state and threaten flights over its main commercial airport near Tel Aviv.
Israeli National Security Adviser Yaakov Amidror told EU diplomats last week in Jerusalem that Israel would prevent S-300 Russian-supplied anti-aircraft missile system to become operational, Haaretz quoted the official as saying on Thursday.
Earlier this month, Israel was reported to have told Washington that Syria had begun payments for a $900 million purchase of S-300s, with an initial deliver due within three months.
Sources close to the Russian weapons export monopoly Rosoboron export said last year that an earlier agreed S-300 deal had been frozen due to concerns over violence in Syria. But one of the sources said Syria had already paid 20 percent of the contract price.