The capture by Syrian pro-government forces of the strategic Qusayr region is a major victory for President Bashar al-Assad, who is now better placed than ever if a US-Russian plan for peace talks materializes.

The nearly three-week battle for Qusayr in central Syria exposed the central role played by Lebanese Shiite movement Hezbollah, a key Assad backer.

Analysts believe the group's fighters, who are experienced in guerrilla warfare, will remain engaged wherever the regime needs them.

The regime has "the advantage right now" while the rebels are "losing morale", said Shadi Hamid of the Brookings Doha Center.

"What Qusayr confirms is that the regime's fall is not inevitable and in fact, the rebels might actually lose," analyst Hamid told AFP.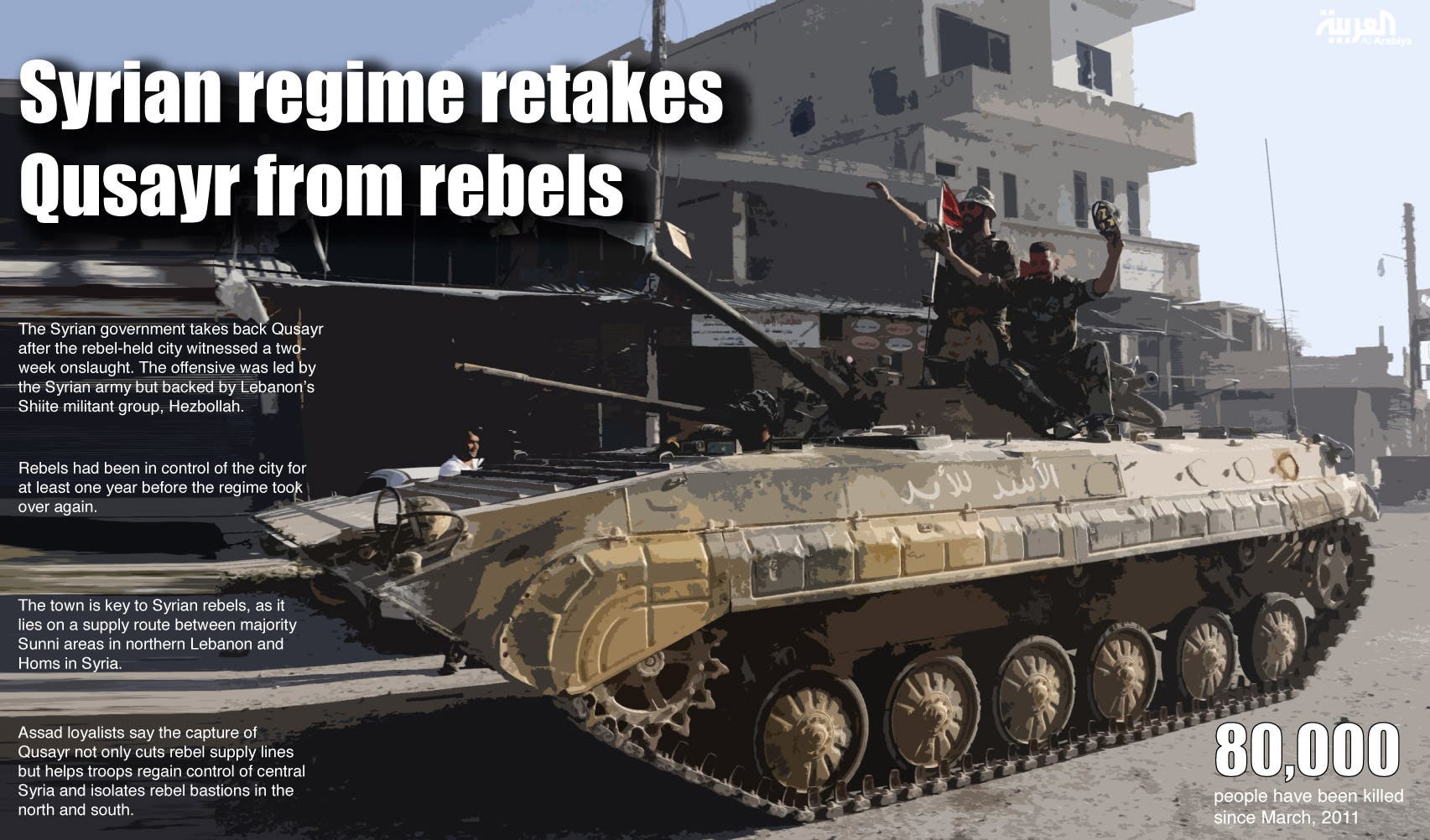 The regime announced Qusayr's takeover from rebel hands on Wednesday, more than two weeks on from a vast Hezbollah-led assault on the town and a year after it first fell into insurgent hands.

Thousands of fighters, civilians and injured people evacuated the town, most of them to a nearby insurgent-held village.

"On a psychological level, this is very important, not just for Syria but for the international community," said Hamid. "In any peace conference or negotiations, it puts the regime at an advantage."

The international community has been pushing since last month for a US-Russian peace initiative dubbed Geneva 2 that aims to end the two-year conflict by bringing rebels and regime representatives to the negotiating table.

While the regime has said it is willing to take part in Geneva 2, the opposition has said it will only participate should Hezbollah and Iranian forces withdraw from Syria.

Now, the rebels are "reluctant to go to Geneva. This is the worst time for them to sit at the negotiating table because they have less leverage today than they have had in months," said Hamid.

The regime is meanwhile seeking to "cleanse key cities Aleppo (in the north), Damascus and Homs (in the center) before any international conference is held", said Naji Malaeb, a military analyst at the Dubai-based Inegma center.

"The regime appears very strong because it can now take control from Damascus to the coast," said Khattar Abou Diab, who teaches political science at Paris Sud University.

Qusayr lies at a key juncture between regime stronghold Damascus and the coastline, a bastion of the Alawite community to which Assad's clan belongs.

The town is also important "because it lies on a rebel supply route" from majority Sunni areas in northern Lebanon to Homs in central Syria, noted Malaeb.

"The takeover (of Qusayr) means the expulsion of its original inhabitants," the majority of who are Sunni, while Assad belongs to the Alawite offshoot of Shia Islam, said Malaeb.

Hezbollah's huge arsenal has long been funneled to it from Shiite Iran via Syria, and its leader Hassan Nasrallah vowed days before the assault on Qusayr began that Assad's regime would not be allowed to fall.

"When Hassan Nasrallah says the fall of the Syrian regime cannot happen, it is carrying out an Iranian order," said Malaeb.

Though the movement's "fighting prowess became clear in Qusayr", group leaders have been involved in planning the Syrian army's operations since the start of the conflict, according to Malaeb.

"Nasrallah and other Hezbollah officials have made very clear that they are willing to go all out in support of the Assad regime," Hamid added.

Analysts believe the Shiite movement will continue to battle insurgents elsewhere in Syria. "If the regime needs them, they're there to serve the regime in battle," said Hamid.

Rebels in Qusayr were gradually weakened by a superior fighting force throughout a year-long siege along with frequent air strikes.

Experts agreed, however, that despite the army's takeover of Qusayr, the regime has a long way to go before it puts down a revolt that broke out in March 2011 and has cost more than 94,000 lives.

"In February 2012, the regime believed the end of the battle for Baba Amr (in Homs) meant the end of the crisis and a true victory, and that wasn't the case," said Abou Diab of Paris Sud.

But Qusayr's fall will likely prolong the conflict and make any peaceful settlement more difficult. "Geneva 2 is under tremendous threat," said Abu Diab. "It will likely radicalize the opposition."