Saudi Arabia's Grand Mufti Abdul Aziz al-Asheikh hailed on Thursday senior Muslim cleric Sheikh Youssef al-Qaradawi's stance against Iran and Hezbollah, Al Arabiya television reported.
Sheikh Qaradawi, president of the International Union of Muslim Scholars, criticized last Saturday the Lebanese Shiite militia group for its military intervention in Syria and called for Jihad against it.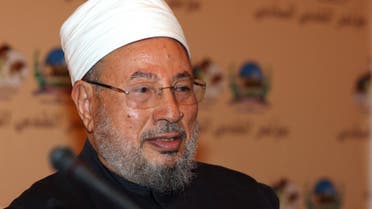 Qaradawi, a Sunni cleric, said in a speech in the Qatari capital Doha that "every Muslim trained to fight and capable of doing that [must] make himself available" for Jihad against Assad and Hezbollah in Syria, AFP quoted him as saying.
"Iran is pushing forward arms and men, so why do we stand idle?" he asked, describing Hezbollah, which means the party of God in Arabic, as the "party of Satan."
"The leader of the party of the Satan comes to fight the Sunnis... Now we know what the Iranians want... They want continued massacres to kill Sunnis," Qaradawi said.
"How could 100 million Shiites [worldwide] defeat 1.7 billion [Sunnis]? Only because [Sunni] Muslims are weak."
Sheikh Qaradawi said he was mistaken in his previous support of Hezbollah and Iran, in front of Saudi clerics.
"I defended the so-called Nasrallah and his party, the party of tyranny... in front of clerics in Saudi Arabia," he said.
"It seems that the clerics of Saudi Arabia were more mature than me," Qaradawi added, according to AFP.