Qatar's prime minister is likely to be replaced in a cabinet reshuffle expected to be announced by the country's new emir Sheikh Tamim bin Hamad al-Thani in a speech on Wednesday, according to local media reports.
Sheikh Tamim will address the nation in a speech in which he will be enthroned as head of state of the emirate.
Qatar-based satellite channel Al-Jazeera said current minister of state for interior affairs, Sheikh Abdullah bin Naser al-Thani, had been chosen to be the next prime minister, succeeding the powerful Sheikh Hamad bin Jassim al-Thani, who is also the foreign minister.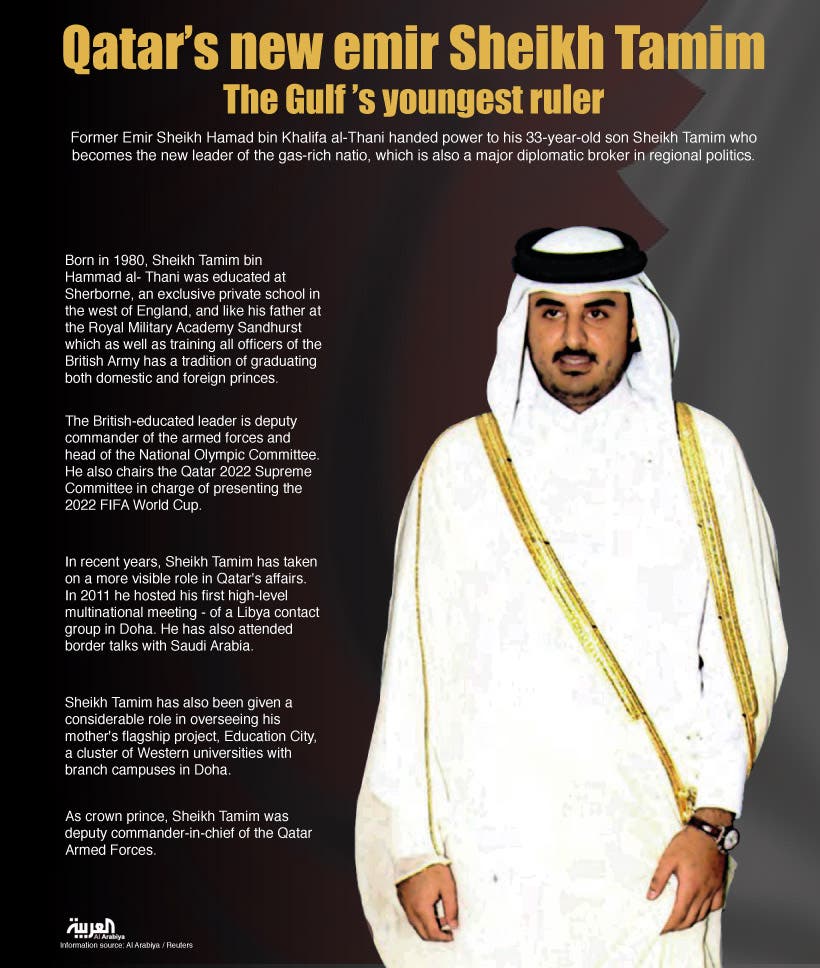 Official sources had told Al Arabiya that the new emir will implement ministerial changes, that would lead to the departure of the Prime Minister Sheikh Hamad bin Jassem al-Thani, who has held the post since 2007.
On Tuesday, Qatar's Sheikh Hamad bin Khalifa al-Thani announced in a televised live address to the nation that he will transfer power to his son Sheikh Tamim.
In a speech broadcast on Qatar state television, Sheikh Hamad, 62, said it was time for "a new generation to take over." But he made no direct mention of Prime Minister and Foreign Minister, Sheikh Hamad bin Jassim al-Thani, who had been widely expected to also step down.
"God knows that I didn't want power in itself and I didn't seek it for personal reason," said the emir, who overthrew his father in a bloodless coup in 1995.
Read the abdication speech in full here.