Red cards were waved by thousands of demonstrators in Egypt's Tahrir Square on Sunday to demand the resignation of Egypt's Islamist President Mohamed Mursi.
Opposition protesters gathered in Cairo's iconic Tahrir Square. Mursi's supporters also gathered around the Raba El-Adwyia Mosque square in Nasr City, a suburb of Cairo.

"The people want the ouster of the regime," the protesters chanted, the signature slogan of the 2011 revolt that ousted Hosni Mubarak and brought Mursi to power.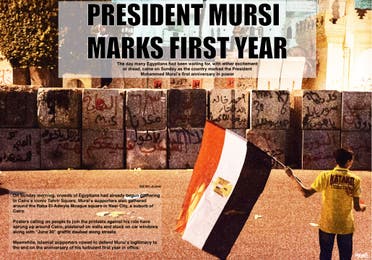 Some protesters held up red cards, others wore black headbands with "Leave, Mursi!" written on them.

"This is the second revolution and Tahrir is the symbol of the revolution," said carpenter Ibrahim Hammouda, who travelled from the northern city of Damietta to join the protest.

Marchers were scheduled to set off at 5 pm (1500 GMT) for the Ittihadiya presidential palace, close to a neighborhood where thousands of Mursi supporters vowed to pursue a counter-demonstration in defense of the president.

Anti-Mursi demonstrations were also expected in provincial cities.

Police and troops have deployed to protect key buildings around the country, security officials said. The health ministry said hospitals have been placed on high alert.
The planned June 30 protests have been called for by grassroots movement Tamarod (Arabic for rebellion) and opposition leaders, with the campaign claiming to have collected more than 22 million signatures for Mursi's departure and new elections.
Posters calling on people to join the protests against his rule have sprung up around Cairo, plastered on walls and stuck on car windows along with "June 30" graffiti daubed along streets.
Meanwhile, Islamist supporters vowed to defend Mursi's legitimacy to the end on the anniversary of his turbulent first year in office.
Since the Islamist president took office, has battled with the judiciary, the media and the police. The economy has taken a tumble, investment has dried up, inflation soared and the vital tourism industry has been battered.
Mursi, a senior Muslim Brotherhood leader, is Egypt's first president elected in a free vote, catapulted to power by the 2011 Arab Spring uprising that ended three decades of Hosni Mubark's dictatorial rule.
In the past week, Egyptians have been stocking up on food and filling up their cars with petrol, in a showdown that has already seen eight people killed, including an American, and scores more injured as protesters from both sides took to the streets.
In the run-up to the anti-Mursi rallies, thousands of his supporters gathered in Cairo's Nasr City neighborhood to listen to fiery speeches urging them to defend the president's legitimacy.

Mursi's Freedom and Justice Party, political arm of the Muslim Brotherhood, called for a "general mobilization" in support of the president who has said he wants to stay the course until the end of his term in June 2016.

"We will not allow a coup against the president," senior Brotherhood leader Mohamed al-Beltagui told a rally in Cairo, AFP reported,
But leading opposition figure, Nobel laureate Mohamed ElBaradei, urged the president "to listen to the people" and step aside.


(With AFP)

Raba El-Adwyia mosque square in Nasr City