Egypt's ousted president Mohammed Mursi is currently being detained at a military facility for "preventative" measures, military and Muslim Brotherhood sources have been quoted as saying early Thursday.
Mursi was detained along with senior aides after issuing a defiant call for supporters to protect his elected "legitimacy", in a recorded speech hours after the military announced he had been ousted Wednesday, according to AFP news agency.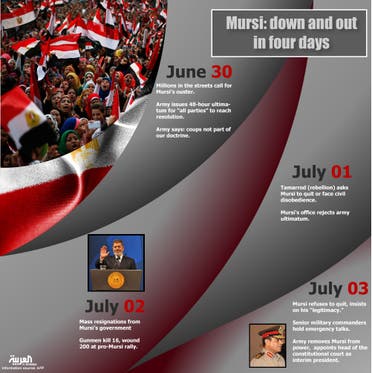 A senior army official speaking to AFP Mursi "is being held preventively for final preparations,", suggesting Mursi may face formal charges over accusations made by his opponents.
"We had to confront it at some point, this threatening rhetoric," the military official said.

"He succeeded in creating enmity between Egyptians," the official said.

Meanwhile, officials from the Muslim Brotherhood, from which Mursi hails, also confirmed to Reuters news agency the toppled president is being held the authorities.

Ahmed Aref, the Brotherhood spokesman, said both Mursi and Essam El-Haddad, a senior aide, were being held but he did not know where.
"Mursi and the entire presidential team are under house arrest in the Presidential Republican Guards Club," Gehad El-Haddad, the son of a top Mursi aide, told AFP.

Haddad's father, Essam El-Haddad, widely seen as Mursi's right-hand man, was among those held, he added.
The Egyptian authorities arrested on Wednesday two high-ranking Muslim Brotherhood officials close to Mursi, security officials told AFP.
Saad al-Katatmi, chief of the Freedom and Justice Party – which is the political arm of the Brotherhood – and Rashad Bayoumi, who is deputy head of the Islamist movement were reportedly taken into custody.
Also, according to Egypt's Al-Ahram, arrest warrants have been issued for 300 members of the Muslim Brotherhood.
At least 50 people were killed in clashes in the days leading to massive protests on June 30 calling for his departure.
Among them, at least five people were killed when opponents and supporters of Egypt's deposed president clashed after the army announced his removal.

That prompted the army to issue the president a 48-hour ultimatum to find an agreement with the protesters.

Mursi has been summoned for questioning by a court over his escape, along with other inmates, from prison during the revolt that overthrew his predecessor Hosni Mubarak in 2011.

The military official suggested to AFP that the former leader may now be charged by prosecutors in the case.