Egyptian police arrested on Friday the deputy head of the Muslim Brotherhood, Khairat al-Shater, and the hardline Salafi presidential candidate Hazem Salah Abu Ismail.
An interior ministry spokesman said al-Shater, widely seen as the most influential Islamist politician behind deposed President Mohammed Mursi, was arrested from an apartment in eastern Cairo.
"Khairat al-Shater and his brother have been arrested at the request of the prosecution," said the general on condition of anonymity. "They went quietly."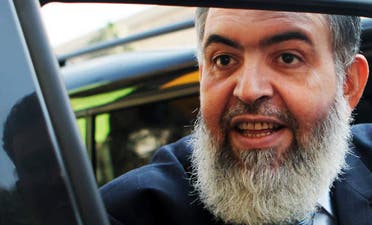 Meanwhile, Egyptian security forces arrested another Islamist leader, Abu Ismail, and immediately took him to prison, according to reports that emerged on Friday.
Abu Ismail was arrested at his home, Reuters said.
Earlier on Friday, the Egyptian prosecution freed two high-ranking Muslim Brother officials, the state news agency reported. But the prosecution denied it had freed one of the men detained and said he was still under investigation.
The Egyptian authorities arrested on Wednesday the top Brotherhood officials close to ousted President Mohammed Mursi.
The prosecution said that Saad al-Katatni, chief of the Freedom and Justice Party – which is the political arm of the Brotherhood – was still in custody. However, it did not address the arrest of Rashad Bayoumi, who is deputy head of the Islamist movement.
The Egyptian army chief ousted Islamist President Mohammad Mursi on Wednesday and announced the head of the Supreme Constitutional Court caretaker leader.
He said that the Islamist-drafted constitution will be suspended and early presidential and parliamentary elections will be held, adding that a technocrat cabinet will be appointed to run the country during a transition period, which he did not specify.
(With AFP)