The United States on Wednesday condemned the bloody violence in Egypt saying the current situation there will not lead to a peaceful resolution.
U.S. Secretary of State John Kerry and the White House asked the interim government in Cairo to end a state of emergency, a throwback to the nearly 30 years of authoritarian rule under Hosni Mubarak, as soon as possible.
"Today's events are deplorable and they run counter to Egyptian aspirations for peace, inclusion and genuine democracy," Kerry told reporters at the State Department.

"Egyptians inside and outside the government need to take a step back, they need to calm the situation and avoid further loss of life," he added.
More than 100 people have been killed nationwide, many in assaults on protest vigils among supporters of ousted President Mohammad Mursi.
White House spokesman Josh Earnest, speaking in Massachusetts, where President Barack Obama is vacationing, said the violence runs counter to the pledges made by Egypt's interim government, AP reported.
The Obama administration has avoided making a determination on whether Mursi's ouster was a coup.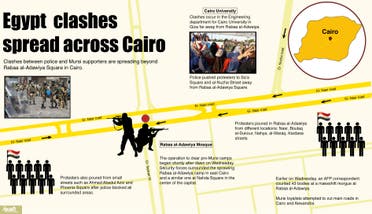 In other Western reaction the violence in Egypt, British Foreign Secretary William Hague said that he is "deeply concerned" about the escalating violence and loss of life on all sides. He condemned the use of force in clearing protests and urged security forces to act with restraint.
"The U.K. has been closely involved in intensive diplomatic efforts directed at reaching a peaceful resolution to the standoff," he said in a statement. "I am disappointed that compromise has not been possible."
Hague said that leaders "on all sides" must work to reduce the risk of further violence, adding that only then will it be possible to "take vital steps" toward reconciliation.
In mainland Europe, German Foreign Minister Guido Westerwelle has said that the government is "extremely worried" about the "very dangerous" escalation of violence in Egypt, indirectly criticizing the leadership for its crackdown on the Muslim Brotherhood while at the same time urging an end to violence.
"We expect from the transitional government and the Egyptian authorities that they allow peaceful demonstrations just as we expect from the other political forces that they distance themselves clearly from violence, that they don't demand violence and don't act violently."
Chancellor Angela Merkel's spokesman, Steffen Seibert, said the "decisive principle" must be "that the human rights of all Egyptians, independent of their political direction and conviction, have to be respected and protected."
Italian Foreign Minister Emma Bonino also condemned the attacks and appealed to all sides in Egypt to do what they can to immediately stop the explosion of violence and "avoid a bloodbath."
Bonino expressed deep sorrow for the loss of human lives.
"I had expressed the hope that the squares with the sit-ins be emptied" through an agreement among all sides, and "not with the intervention of police forces, which doesn't help the search for a solution to the political crisis," Bonino said.
She added that it was essential that security forces "exercise maximum self-control; likewise, everyone must avoid every incitement to violence." Bonino renewed an appeal for the resumption of a "process of national dialogue."
European Union foreign policy chief Catherine Ashton, who recently visited the country, said she was following the situation in Egypt with great concern.
"Confrontation and violence is not the way forward to resolve key political issues. I deplore the loss of lives, injuries and destruction in Cairo and other places in Egypt. I call on the security forces to exercise utmost restraint and on all Egyptian citizens to avoid further provocations and escalation," she said in a statement.
As for the U.N.: Secretary-General Ban Ki-moon condemned the violence and called on all sides to reconsider their actions in light of new political realities and the need to prevent further loss of life.
(With Reuters and AFP)