Muslim Brotherhood protests plunged into violence across Egypt on Friday, with at least 57 killed and hundreds wounded, health and security officials said.
AFP reported that 60 people were killed across Egypt, saying at least 19 bodies were counted in one Cairo mosque, while eyewitnesses at a second mosque said more than 20 bodies of protesters were laid out.
Emergency services said eight protesters were killed in clashes in the Mediterranean town of Damietta, five in Fayoum south of Cairo, four in the Suez Canal city of Ismailia and four in the Nile delta town of Tanta. One person was killed in Alexandria, Egypt's second city.
Automatic gunfire echoed across Cairo and black smoke billowed from the capital's huge Ramses Square, a military helicopter hovering low overhead looking down on the chaos, Reuters reported.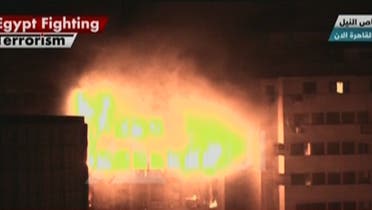 The army deployed armored vehicles on major roads around the capital. The Egyptian government said it is confronting a "malicious terrorist plot" by the Muslim Brotherhood.

"The cabinet affirms that the government, the armed forces, the police and the great people of Egypt are united in confronting the malicious terrorist plot by the Muslim Brotherhood," it said in a statement.
The demonstrations come after 578 people were killed on Wednesday in clashes in Cairo as police cleared two Mursi protest camps and elsewhere in the country, in Egypt's bloodiest day in decades.
The interior ministry gave orders on Thursday for police to use live fire if government buildings come under attack.
Residents of some areas formed their own roadblocks, checking identity papers and searching cars.
Western response

The European Union's top diplomat Catherine Ashton on Friday said she had asked the 28-nation bloc to agree "appropriate measures" in response to escalating violence in Egypt.

"The toll of death and injury is shocking," she said in a statement. "I have asked member state representatives to debate and coordinate appropriate measures to be taken by the European Union in response to the situation in Egypt."

The EU has said top officials from its 28 members will meet Monday to review the crisis in Egypt, notably looking at convening a meeting of EU foreign ministers as soon as possible.

Egypt has faced growing international condemnation since around 600 people were killed in clashes on Wednesday as police broke up protest camps of supporters of ousted President Mursi.
U.S. President Barack Obama said Washington was cancelling a joint U.S.-Egyptian military exercise.
"While we want to sustain our relationship with Egypt, our traditional cooperation cannot continue as usual when civilians are being killed in the streets and rights are being rolled back," he said.
But despite scrapping the Bright Star exercise, which has been scheduled every two years since 1981, he stopped short of suspending Washington's annual $1.3 billion in aid.
The U.S. State Department warned citizens not to travel to Egypt and called on those already there to leave.
Egypt's interim presidency responded defiantly to Obama, warning that "statements not based on facts may encourage violent armed groups."
Turkey, which backs Mursi, recalled its ambassador to Cairo over the violence, prompting a tit-for-tat move by Egypt.
U.N. human rights chief Navi Pillay called for an investigation into Wednesday's bloodshed, saying the death toll suggested "an excessive, even extreme, use of force against demonstrators."
Response to Western response
Saudi Arabia's King Abdullah bin Abdul Aziz lent the kingdom's for Egypt in its fight "against terrorism," saying Egypt's stability is being targeted by "haters." He warned that anyone interfering in Egypt's internal affairs is "igniting sedition."
The Egyptian presidency hailed King Abdullah's support, saying Egypt will "never" forget his "historic stance."
Both Jordan and the UAE also praised King Abdullah's support for the Egyptian government.
Abdul Latif Minawi, an Egyptian columnist and former head of Egypt's state TV, said the Saudi position comes in response to "Western positions, which are difficult to understand."
"If Western leaders plan to repeat the Libyan scenario in Egypt, this will not be achieved in Egypt," Minawi said. He said "various Western interests come together in this situation to ensure the collapse of Egypt."
"The Saudi position is another stance that understands where the regional interests lie," Menawi said.