The Syrian government should have granted United Nations inspectors access to the site of an alleged gas attack, John Kerry reportedly told Syrian Foreign Minister Walid al-Muallem in a call on Saturday.
Kerry called "to make clear that if, as they claimed, the Syrian regime has nothing to hide, it should have allowed immediate and unimpeded access to the site rather than continuing to attack the affected area to block access and destroy evidence," a State Department was quoted as saying by Reuters news agency.
Syrian opposition groups have accused President Bashar al-Assad's forces of launching massive chemical attacks near Damascus on August 21 and killing as many as 1,300 people.
Infographic: Chemical weapons claims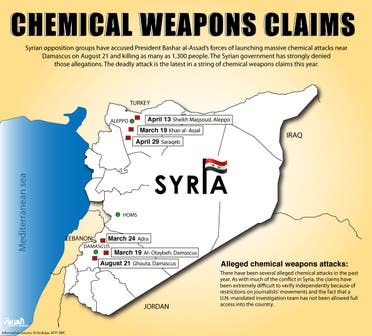 The Syrian government has strongly denied those allegations, but has yet to accede to demands that U.N. inspectors already in the country be allowed to visit the sites of the alleged attacks, AFP news agency reports.
"The secretary further emphasized ... that he had received full assurances from Free Syrian Army commanders that they would ensure the safety of U.N. investigators into the targeted areas," the official said.
"In all these calls, the secretary emphasized the importance of quickly determining the facts and underscored the seriousness and gravity of any chemical weapons use," the official said.
U.S. President Barack Obama received a "detailed review of a range of potential options" from his top advisers on Saturday on how Washington and its allies could respond to an alleged chemical weapons attack on Damascus by the Syrian government, Reuters reported the White House as saying.
Obama also spoke with British Prime Minister David Cameron about Syria and agreed to consult about "potential responses by the international community," the White House said.


(With AFP and Reuters)