In a new book, "Gaddafi's Harem: The Story of a Young Woman and the Abuses of Power in Libya," French journalist Annick Cojean unveils Libya's former ruler's alleged sexual abuse of schoolgirls, the Daily Mail reported on Sunday.
The book, originally published in French, has sold over 100,000 copies and the English translation is already available for purchase online.
The details in the book are described by America's New York Daily News as "shockingly graphic," made all the more so by the levels of "woman shaming" that victims have faced upon the revelations.
A 'true story'
One such "victim," Soraya, who uses a pseudonym to protect her identity in the book, was allegedly kidnapped when she was 15 and held for five years in a basement at Qaddafi's fortress located just outside of Tripoli.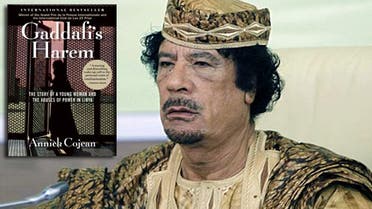 She says she was violently raped, beaten and abused on an almost daily basis and saw similar abuse of other girls and boys, men and women.
Cojean says the female bodyguards that Qaddafi famously surrounded himself with, were in fact mistresses with no weapons knowledge, according to the Daily Mail.
An 'honor'
Still at school, Soraya was given the "honor" of presenting a bouquet of flowers to Qaddafi during a visit in 2004.
After receiving the flowers, Qaddafi allegedly patted Soraya on the head, a gesture to his aids that said he wanted her, the Daily Mail reported, citing the book.
According to the newspaper, a section in the book explains how Soraya was summoned to his palace near Tripoli; she tells a chilling tale of how Qaddafi apparently tried to sexually abuse her.
Cojean quotes her in the book as saying: "He grabbed my hand and forced me to sit next to him on the bed. I didn't dare look at him."
Soraya is one of many women who have come forward with accusations against Qaddafi, according to multiple news reports in the UK and the U.S., but these accusations carry their own danger in a country where pre-marital intercourse is prohibited.