U.N. inspectors spoke on Monday to alleged victims of chemical weapons inspectors attack in the Damascus district of Ghouta despite coming under sniper fire, U.N. Secretary-General Ban Ki-moon said.

The United Nations has made "a strong complaint" to both the Syrian government and opposition rebels over the sniper attack, Ban said in a video statement from Seoul, AFP reported.
In videos posted online, with faint sound quality, the inspectors appeared in a makeshift hospital, wearing blue helmets and speaking English. A doctor translates for an inspector as a man speaks, next to someone in a surgical mask.

The inspectors can also be seen with a nurse near the bed where a man is lying. One inspector takes notes as the rest of the group looks on.

On Sunday, four days after the alleged attacks in which opposition groups say regime forces killed hundreds of civilians with chemical agents, Damascus gave the green light for a group of UN experts to visit the areas of Eastern Ghouta and Moadamiyet al-Sham on the outskirts of Damascus to investigate.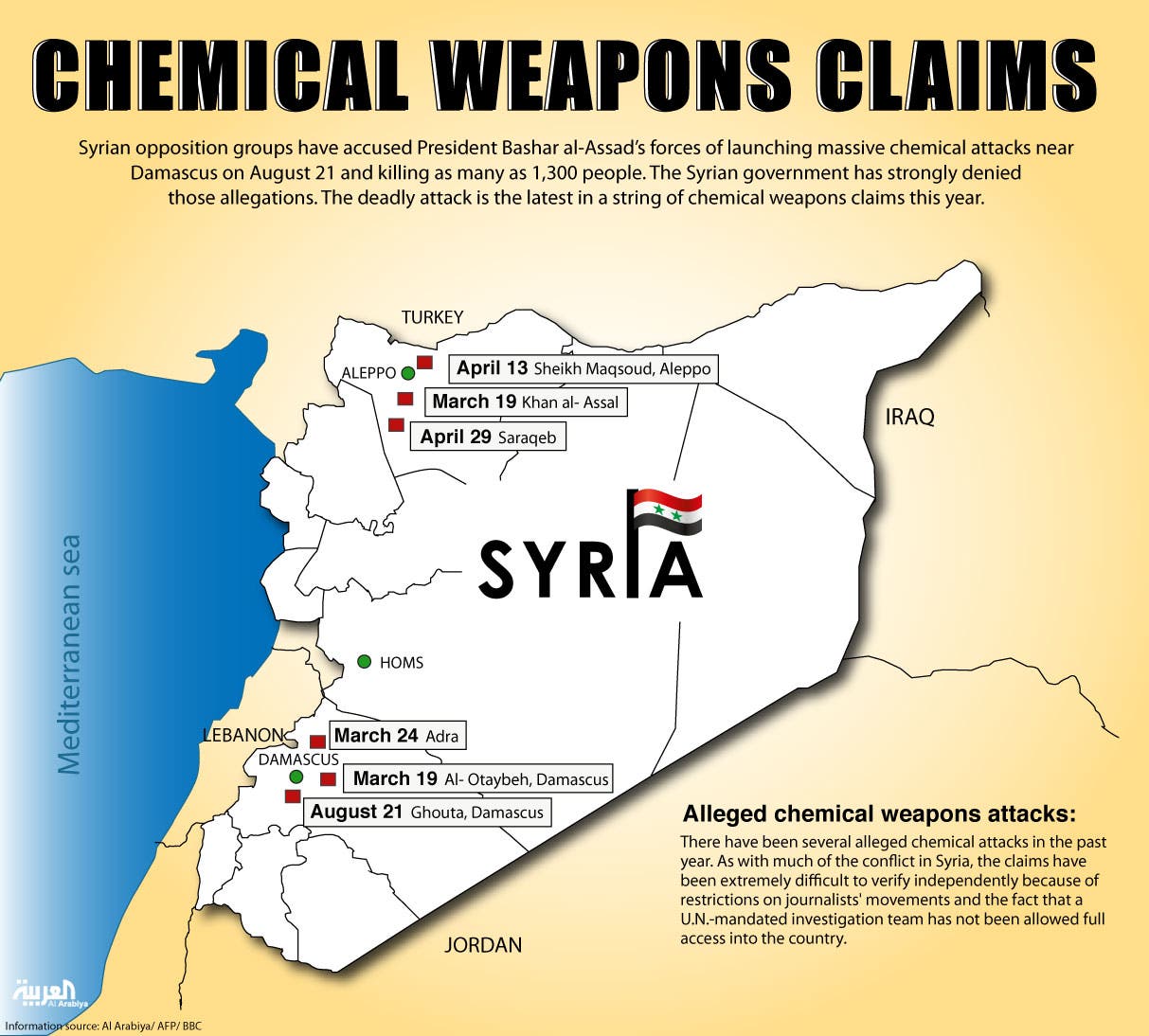 This came amid mounting pressure and accusations of responsibility against President Bashar al-Assad for the strikes from Western countries, which are weighing military action in Syria.

The U.N. mission is aimed at determining if a chemical weapons attack actually took place, but will not investigate who was responsible for any attack. Syria has rejected responsibility, in turn accusing the rebels of using chemical arms.
If allegations of chemical attacks are proved to be right, Western powers will likely move ahead with plans to launch military attacks on the Syrian regime.
Geneva II off the table

An international peace conference on Syria, planned to be held in Geneva, is off the table for now following the alleged chemical weapons attack in Damascus, a senior member of Syria's opposition coalition said on Monday.

Members of the Syrian National Coalition met representatives of the "Friends of Syria," a group of Western and Arab nations opposed to President Bashar al-Assad, in Istanbul on Monday in a meeting originally meant to discuss plans for the conference.

"It (the meeting) was for Geneva but we refused to speak about Geneva after what's happened ... We must punish this dictator, Bashar the Chemist we call him, and then we can discuss Geneva," coalition Secretary General Badr Jamous told Reuters after the meeting.

(With AFP and Reuters)