The United States on Monday postponed a meeting with Russia scheduled for Wednesday in The Hague due to "ongoing consultations" over the use of chemical weapons in the Syria.

"Given our ongoing consultations about the appropriate response to the chemical weapons attack in Syria on August 21," Washington has decided to postpone Under Secretary Wendy Sherman and Ambassador Robert Ford's meeting with a Russian delegation, a senior State Department official said.
Infographic: Chemical weapons claims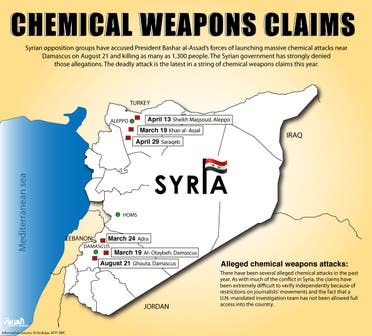 "We will work with our Russian counterparts to reschedule the meeting," the senior official said, adding that the chemical weapons attack demonstrated the need for a "comprehensive and durable political solution" to end the bloodshed.
After Washington postponing the meeting, Russia reiterated its warning against a military intervention in Syria when it said that it could have a "catastrophic consequences" for the region and called on the international community to show "prudence" over the crisis.

"Attempts to bypass the Security Council, once again to create artificial groundless excuses for a military intervention in the region are fraught with new suffering in Syria and catastrophic consequences for other countries of the Middle East and North Africa," Agence France-Presse the foreign ministry said.

"We are calling on our American partners and all members of the world community to demonstrate prudence (and) strict observance of international law, especially the fundamental principles of the U.N. Charter."
Moscow also expressed its "regrets" over the meeting being postponed.
"It arouses regret that our partners decided to cancel the bilateral meeting" AFP quoted Deputy Foreign Minister Gennady Gatilov as saying on Twitter, adding such talks would have been particularly useful at a time "when military action is hanging over this country."
The White House has said that there is little doubt that the Syrian government has used chemical weapons, adding it is evaluating a response to the use of chemical weapons but has not yet decided on a response.
U.S. Secretary of State John Kerry called last week's alleged chemical weapons attack a "moral obscenity," asking all nations to unite against the use of chemical weapons in Syria.
"What we saw in Syria last week should shock the conscience of the world. It defies any code of morality," Kerry said in a televised statement.
The comments marked a significant escalation of a showdown over the horrific attack outside the Syrian capital that killed up to 1,300 people last week, according to the Syrian opposition, and came as Washington appeared to be positioning for possible military action.

Monzer Makhous, the Syrian National Coalition's (SNC) ambassador to Paris, told Al Arabiya on Monday that Tuesday will mark a crucial phase in the Syrian conflict and will be filled with developments that "the region and the world have not witnessed in years."
He said an international military action is on the sight and that the Syrian Free Army will do its part. The military actions, he noted, will be "comprehensive."
(With AFP and Reuters)