U.S. President Barack Obama said on Wednesday that he received military options against Syria but he has not made a decision yet.
Obama noted that the use of chemical weapons in Syrian affects U.S. national interests and that goal of a limited military action would be to deter future use of chemical weapons.

"If we are saying in a clear and decisive but very limited way, we send a shot across the bow saying, stop doing this, this can have a positive impact on our national security over the long term," he told Public Broadcasting Service in a televised interview.

The president said U.S. officials believe the Syrian government is responsible for the attack a week ago in the suburbs of Damascus that killed hundreds of people, and do not believe the Syrian opposition has chemical weapons that could have been used on that scale, Reuters reported.
Infographic: Striking a balance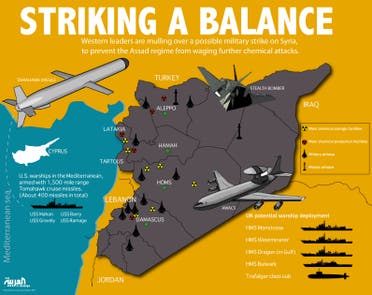 Obama said however that he had concluded that "direct military engagement, involvement in the civil war in Syria, would not help the situation on the ground."

Given that limited vision for U.S. military action in the country, Obama was asked what would be the strategic rationale behind a U.S. assault, likely to take place with cruise missiles fired from U.S. and allied ships and submarines.

He said that by the end of the engagement, the Syrian government "will have received a pretty strong signal that it better not do it again," AFP reported.

Obama asked to make his case
U.S. House Speaker John Boehner had sent a letter earlier to the president with warnings against any military action before Obama makes his case to the American people and to U.S. lawmakers.

Boehner sought answers to 14 questions -- notably "What is the intended effect of the potential military strikes?" -- and stressed that it will take presidential leadership to gain congressional and public support.

The White House has consulted with key members of Congress including Boehner, Senate Armed Services Committee chairman Carl Levin and others over the possible options for intervention in Syria, but Boehner insisted more was needed.

"While the outreach has been appreciated, it is apparent from the questions above that the outreach has, to date, not reached the level of substantive consultation," Boehner wrote.

"It is essential that you provide a clear, unambiguous explanation of how military action -- which is a means, not a policy -- will secure U.S. objectives and how it fits into your overall policy."

The White House has insisted it has the authority to launch military strikes against Syria without congressional approval, citing the threat to U.S. national security posed by the use of chemical weapons.

But Boehner said the president should "personally make the case to the American people and Congress for how potential military action will secure American national security interests, preserve America's credibility, deter the future use of chemical weapons and, critically, be a part of our broader policy and strategy."

He also said it was "essential you address on what basis any use of force would be legally justified and how the justification comports with the exclusive authority of congressional authorization under Article I of the Constitution."

Boehner also wanted to know whether Obama was prepared to seek funding from Congress for additional military operations beyond the initial plan; if the administration had contingency plans should Assad retaliate; and what the administration would do "should further humanitarian atrocities occur."
(With AFP and Reuters)