A U.S. couple from Los Angeles has been jailed in Qatar, charged with premeditated murder and forced starvation of their eight-year old daughter and accused of human trafficking, according to a coalition of groups that seeks to draw public attention to the case.
Matthew and Grace Huang moved to the tiny rich Gulf state with their three young children in 2012 so that Matthew, a Stanford-trained engineer, could work for a major World Cup 2022 infrastructure project.
The Huangs, both of Asian descent, adopted all three children from Africa through "a respected adoption agency and obtained all the proper visas from the State Department," according to an executive summary report of their case obtained from David House Agency, which assists Americans who are wrongfully detained abroad.
Gloria is the Huangs' middle child. They adopted her from an orphanage in Ghana in 2009.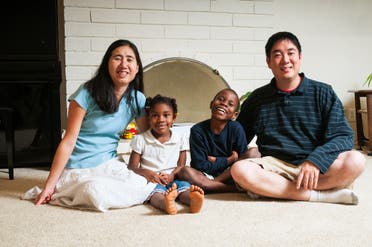 On Jan. 15, 2013, Gloria died at their apartment in the Qatari capital Doha. The report states that she "suddenly" died and "had not been ill, at least not outwardly so. Everyone who saw her in the days before she died thought Gloria was a normal, healthy eight-year old."
A friend of the Huangs, who saw Gloria the night before she died, has testified that "Gloria looked happy and healthy."
"I saw nothing that made me concerned about Gloria's health," Jenny Seo wrote in her testimony.
Her death certificate, issued by the Public Health Department in Qatar, attributes the cause of death to "cachexia and dehydration."
During a court hearing, Dr. Anis Mahmoud Khalifa, who conducted Gloria's autopsy, openly told the court: "I never mentioned in my report or statements the word "starvation" but rather emaciation."
But the prosecutor insists that cause of death was forced starvation, referring to police "intelligence" reports.
For example, a detective from the criminal investigation department told the court hearing on June 18 that according to information gathered from "intelligence sources we knew that the defendant once has taken away a candy off the girl's hand, and grounded her for eating it."
"As you are aware, the deceased child has black complexion, very skinny while her parents are white. Parents who wish to adopt children should be selective so that their kids are supposed to be beautiful," detective Ahmad Issac Hamoudah Abu Zoro told the court.
The Huangs' representatives in the United States cite "wholly misguided reasons" behind the Qatari police suspecting wrongdoing by Gloria's parents.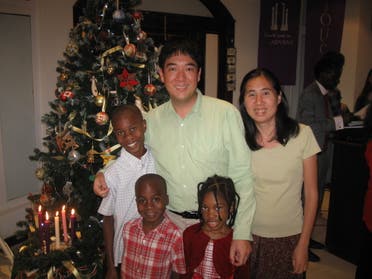 "The Huangs are an unconventional family. Matthew and Grace are Americans, of Asian descent, with three adopted black children from Africa. The police investigating Gloria's death found the family situation inherently suspicious," the representatives said in a report.
Speaking to Al Arabiya from Los Angeles, Grace's Brother said his sister and brother-in-law were detained due to a "faulty understanding of science…because if you review the medical facts of the case it clearly shows that my sister and Matthew did not starve their daughter."
Janice Jean Ophoven, an American pediatric forensic pathologist who reviewed Gloria's autopsy report, says Gloria's death was likely caused by a combination of factors and that there is no evidence that her parents were intentionally starving her."
"My understanding is that Gloria generally acted like a healthy child; she, however, had aberrant patterns where she would refuse to eat for periods sometimes lasting days at a time and would binge eat afterwards. On occasions she had eaten food from the garbage, taken food from strangers homes, sought out food in the middle of the night," Ophoven added.
Ophoven rejects the idea of forced starvation as "contrary to the available evidence in this case."
Daniel, Grace's brother, said medical and legal experts in the United States are assisting the Huangs to try to make their defenses and evidence understood in Qatar.
He said that the U.S. government has provided the Qatari authorities with forms of evidence and legal documents that demonstrate the legal adoption process his sister and Mathew went through.
He said the U.S. government is also making "private contacts" with the Qatari authorities, but stressed that "Qatar is a sovereign nation and that U.S. government can't intervene necessarily but they have expressed their concern and there have been U.S. government representatives at every single court date."
Al Arabiya contacted the U.S. consul general in Doha and received an email reply from the press attaché saying: "At this time we are not granting any interview requests regarding this case and we have no public statements to issue."
Al Arabiya contacted the Qatari embassy in Washington DC but they did not respond to our request for comment.