U.S. President Barack Obama said on Tuesday he was confident that Congress will support his decision to take military action against the Syrian regime.
Obama said he is open to changes to his resolution to obtain Congressional approval, as long as the resolution sends a clear message to Syrian President Bashar al-Assad and impedes his ability to use chemical weapons.

Obama told reporters during a meeting with lawmakers at the White House that he wants the American people to know that "this is not Iraq, and this is not Afghanistan." He said action in Syria will be limited and proportional, Associated Press reported.

The meeting in the White House Cabinet room was attended by congressional leaders from both parties in the House and Senate.
Infographic: Syria refugee exodus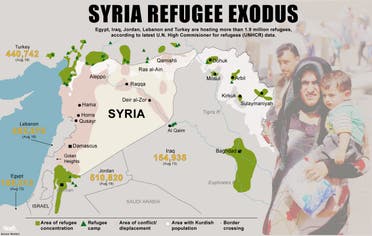 Obama called for a prompt vote on Capitol Hill and reiterated that the U.S. plan would be limited in scope and not repeat the long U.S. wars in Iraq and Afghanistan.

"What we are envisioning is something limited. It is something proportional. It will degrade Assad's capabilities," Obama said, according to Reuters.

"At the same time we have a broader strategy that will allow us to upgrade the capabilities of the opposition," he said.
John Boehner, the Republican speaker of the U.S. House of Representatives, said on Tuesday he would support President Barack Obama's call for military action in Syria and urged his colleagues in Congress to do the same.

Speaking to reporters after a meeting with Obama at the White House, Boehner said the United States had to respond to the use of chemical weapons in Syria and show allies that America would stand up when necessary, according to Reuters.
House Minority Leader Nancy Pelosi has said the use of chemical weapons in Syria cannot be ignored and that United States must respond.
Meanwhile, France urged its European Union partners to unite in response to the Syria crisis, as Paris pushes for punitive military strikes against the Assad's regime.

"Europe must also unite on this issue. It will do so, each with its own responsibility. France will assume its own," President Francois Hollande said during a joint press conference with German counterpart Joachim Gauck, AFP reported.

"When a chemical massacre takes place, when the world is informed of it, when the evidence is delivered, when the guilty parties are known, then there must be an answer," Hollande added.

"This answer is expected from the international community," he said.

France is pushing, along with the United States, for military strikes in response to an alleged August 21 chemical weapons attack by Assad's forces that Washington says killed more than 1,400 people.

"This crime cannot remain unpunished," Hollande said, adding that "global security is at stake" in the crisis.

EU foreign ministers meet Saturday in Vilnius, Lithuania to discuss a series of issues, notably the Syrian conflict, and will be joined by U.S. Secretary of State John Kerry.


(With AP and Reuters)