President Bashar al-Assad said on Wednesday it would cost about $1 billion to surrender Syria's chemical weapons under a U.S.-Russian deal reached last week, a process he said would take at least a year to be accomplished.
"I think it is a very complicated operation technically and it needs a lot, a lot of money. Some estimated about a billion for the Syrian stockpile," Assad said, during an interview on the Fox News television channel.
Asked whether he would be willing to hand over chemical weapons to the U.S. government, Assad said:
"As I said, it needs a lot of money. It needs about one billion. It is very detrimental to the environment. If the American administration is ready to pay this money and take the responsibility of bringing toxic materials to the United States, why don't they do it?"
The Syrian president denied that his forces were responsible for using poisonous gas against civilians in the Damascus suburb of Ghouta on Aug. 21, an incident that brought the United States close to attacking Syria in response.
He said the Syrian army was advancing in the area at the time and had no need to fire rockets filled with the nerve agent sarin, as the United States says it did.
"The whole story doesn't even hold together. It's not realistic. So, no, we didn't. In one word, we didn't use any chemical weapons in Ghouta," he said, speaking English.
Infographic: Refugees flee Syria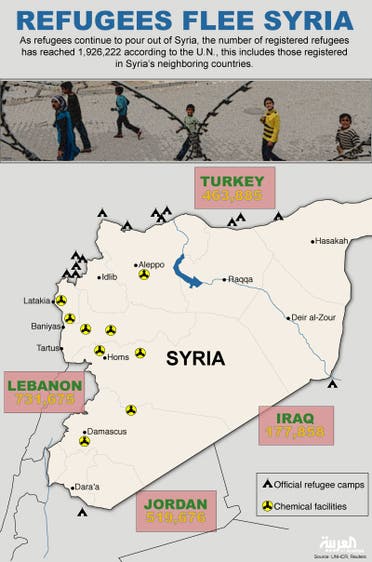 U.N. chemical investigators confirmed on Monday the use of sarin gas in the attack in a long-awaited report that the United States, Britain and France said proved government forces were responsible.

Assad said it was too early to make a definitive comment on the U.N. report.
"We have to look at it. We have to discuss it before saying if we agree or disagree. It was only [released] yesterday evening," he added.

It was Assad's second interview this month with U.S. television, and one of a series of meetings with Western journalists to counter mounting political pressure from Western capitals.
Asked why he had used force to repress a popular uprising and triggered a two-and-a-half year war that has claimed 110,000 lives, Assad insisted Syria was a victim of terrorism.

"What we have is not civil war. What we have is war. It's a new kind of war," he said, alleging that Islamist guerrillas from more than 80 countries had joined the fight.
The Syrian president was asked in the interview if he had a message to U.S. President Barack Obama, Assad replied: "Listen to your people. Follow the common sense of your people. That's enough," in an apparent reference to opinion polls that show Americans oppose any U.S. strike on Syria.
(With Reuters and AFP)