Iraq's Kurds voted Saturday in their first election in four years amid tensions between their autonomous region and Baghdad.
The region's parliamentary elections, the first since July 2009, come as turmoil in the Middle East has raised renewed questions about the political future of the Kurdish nation as a whole.
The Kurds are spread across a number of neighboring states, where they have long faced hostile governments but have found increasing space to pursue their aspirations to run their own affairs.
About 2.8 million Kurds are eligible to vote across the three-province region of northern Iraq, and queues were already forming when polls opened at 7:00 a.m. (0400 GMT) reported Agence France-Presse.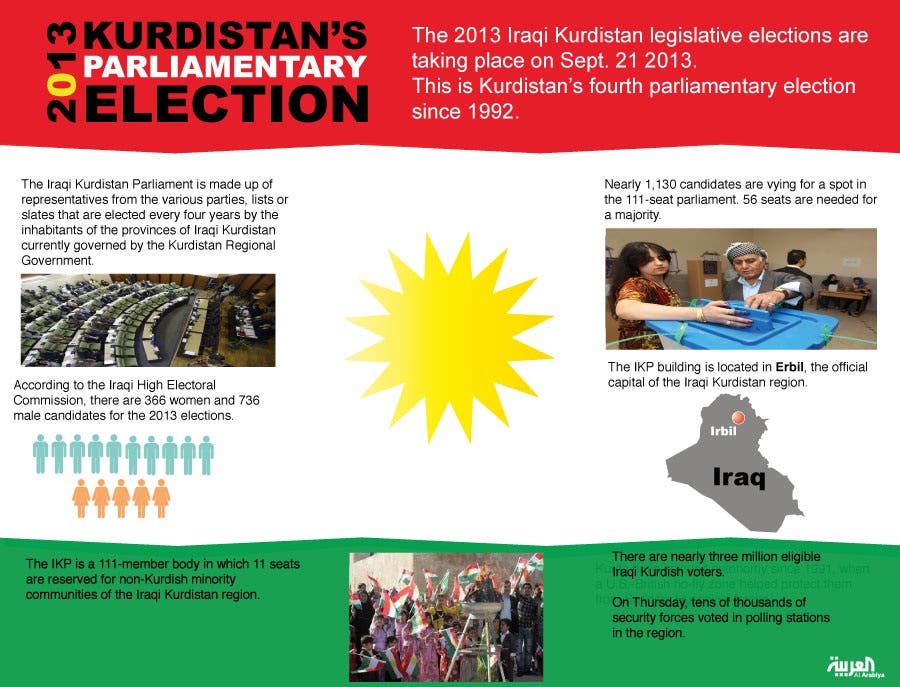 Polls close at 5:00 p.m. (1400 GMT), with preliminary results due in the coming days, according to AFP.
The campaign is centered on calls for more action to fight corruption and improve the delivery of basic services, as well as on how the energy-rich region's oil revenues should be spent.
Three main parties are pushing for positions in the 111-seat Kurdish parliament, with implications beyond Iraq.
The Kurdistan Democratic Party (KDP) of regional president Massud Barzani is widely expected to win the largest number of seats, although it is unlikely to obtain a majority on its own.
"Today is a historic day in the history of the Kurdish people," regional prime minister Nechirvan Barzani, the president's nephew was quoted as saying by AFP.
"We have taken another step in the region to consolidate democracy."
The Patriotic Union of Kurdistan (PUK), which is in government with the KDP, faces a challenge from the Goran movement in its Sulaimaniyah province stronghold.
Ahead of the polls, attacks on Goran supporters left one person dead and several wounded.
(With AFP)