France on Wednesday committed to taking in 500 Syrian refugees at the United Nations' request, the U.N. refugee agency said.

The announcement followed talks in Paris between French President Francois Hollande and the U.N. High Commissioner for Refugees Antonio Guterres, the agency's local representative Philippe Leclerc told AFP.

These refugees are among those considered "particularly vulnerable", he said, adding that the United Nations had asked all EU states to help offer shelter to Syrians fleeing their war-torn country.
Infographic: Syrian refugee count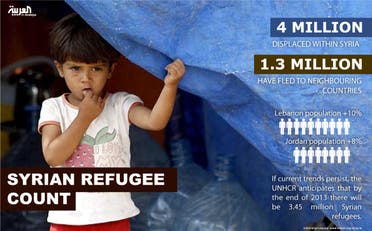 More than two million Syrians have left their country since the fighting first erupted in March 2011, mainly seeking refuge in neighboring Lebanon, Jordan and Turkey, placing a huge burden on these nations.

Details of the refugee agreement with France will be discussed "in coming days", Leclerc said.

With no end to the conflict in sight, the U.N. agency has urged EU nations to offer asylum to 10,000 Syrians this year and another 30,000 in 2014.

"Until now, the country that has responded most favorably to this request is Germany with 5,000 places offered," Leclerc said.

Some 50,000 Syrians have so far applied for protection in the EU, mostly in Sweden and Germany.