The Qatari foreign minister thanked his Saudi counterpart for rejecting a seat at the U.N. Security Council, blaming the diplomatic body for failing in its responsibility towards the Arab world.

In a message posted on his official Twitter account, Qatari foreign Minister Khalid al-Attiya commended Saudi Prince Saud al-Faisal.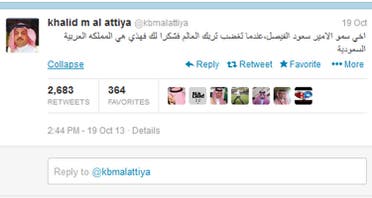 "My brother Prince Saud al-Faisal, your anger confuses the world. Thank you, this is the Kingdom of Saudi Arabia," read the tweet - originally in Arabic - posted on Saturday.
Al Arabiya reported that the tweet coincided with statements made by an official in Qatar's Foreign Ministry which stressed this his country agrees with the Saudi reasons for rejecting the Security Council seat.

For the first time in its history, Saudi Arabia won a two-year rotating seat on the 15-nation Security Council in a U.N. General Assembly election on Thursday.

However, the Saudi government shocked the world when it refused to accept the post a day later.

It accused the Security Council of having "double standards" and of failing to handle the Syrian crisis and the Palestinian-Israeli conflict.

The kingdom is considered to be a major backer of the Syrian opposition and an arch-rival of the Iranian government.

Saudi Arabia's surprising move is seen by analysts as a tool to press the United States for a stronger stance on Syria and as a protest of Washington's recent open policy with Tehran.