Hezbollah has deployed 15,000 fighters for an expected offensive on the mountainous al-Qalamoun area north of Damascus, Syrian opposition sources told Al Arabiya.
The Syrian regime is also reportedly building up its forces in the area, located between Damascus and Homs, Syria's third largest city to the north.
Hezbollah last spring helped the Syrian regime retake the town of Qusair on the border with Lebanon. Hezbollah said it interfered to "protect" Shiite Lebanese people living in the border area with Lebanon against alleged attacked by the armed Sunni rebels.
Hezbollah also justifies his involvement in Syria with the need to protect Shiite religious sites.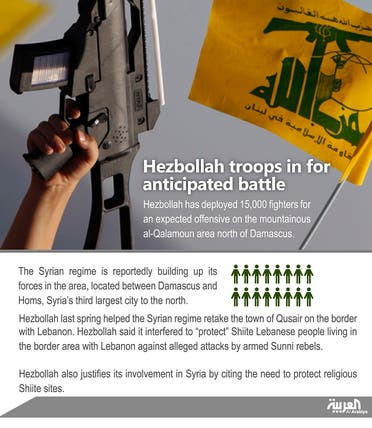 The Damascus-based Abu al-Fadl al-Abbas brigade, a close Hezbollah ally, said it will take part in the expected Qalamoun battle as a response to a recent attack on its headquarters in the capital's Shiite district of Sayeda Zeinab.
Abbas's brigade mainly constitutes Iraqis Shiite fighters who have been fighting alongside Assad's army for months.
Many of the Syrian rebels who fled Qusair went to Qalamoun area and since then there has been talk that a joint Hezbollah and Syrian regime offensive was imminent.
But speculations about the battle have intensified ahead of the planned Geneva II peace conference. Another victory on the ground for President Bashar al-Assad is likely to strengthen his position in negotiations.
The London-based Asharq al-Awsat reported that both the United States and Russia, the main backers of the Geneva II conference, are trying to prevent al-Qalamoun battle form happening.
The newspaper quoted an unnamed Western diplomat as saying that the Syrian regime is pushing for the battle because "it does not want the Geneva conference to take place."
"Assad now thinks that he has passed the danger, therefore, he is not ready to make concessions in Geneva II," the diplomat said, adding that opposition Jihadist groups, like Assad, also refuse the talks.
A heavy military confrontation in Qalamoun is likely to have significant repercussions on the neighboring Lebanon, with observers predicting that thousands of refugees could flee across the border.
Hezbollah, which was once applauded by both Sunnis and Shi'ites for its battles against Israel, has lost support from many Sunnis since it started supporting Assad in Syria's ongoing civil war.