A Hollywood Smile? Decoding the Brotherhood's mugshot smirks
What do five detained Muslim Brotherhood members have in common? A smirky smile for the camera
If the term "Hollywood Smile" has gained traction as a trademark grin, perhaps the "Brotherhood Smirk" could get similar hype. Not heard of it yet? Well you soon might.
Egypt-based body language experts are analyzing images of former President Mohammad Mursi in alleged mugshots taken of him in the Alexandria jail he is currently detained in.
The photos, published in the al-Masry al-Youm independent daily on Sunday, were taken as part of the prison authority's "standard procedure," according to the newspaper's English news website.
"The photos taken by officials are part of standard procedure upon arrival at the prison and are attached to the subject's police record," reported al-Masry al-Youm.
Mursi is being held in prison while he is tried on charges of inciting the killing of protesters in clashes outside the presidential palace in December 2012.
In the pictures, the former Islamist leader flashes a confident smile which, to many Egyptians, was reminiscent of the cheerful expressions of other prison-held Muslim Brotherhood leaders.
Fake bravado?
Body language expert Khalid Kamal told the newspaper that the Muslim Brotherhood leaders' smiles, captured in the prison photographs, are "forced and do not reflect their real psychological state."
Last August, the Islamist bloc's general guide, Mohammad Badie, was pictured smirking and looking straight into the camera on the night of his arrest.
Later that month, another Brotherhood official, Mohammad al-Beltagy, was seen smiling and waving during his arrest, while also flashing the Raba'a symbol with his hand, associated with the Islamist movement's supporters. Also in August, authorities arrested Muslim Brotherhood-linked cleric Safwat Hegazy at a checkpoint near the Siwa Oasis, near Libya. He too flashed a grin during his arrest.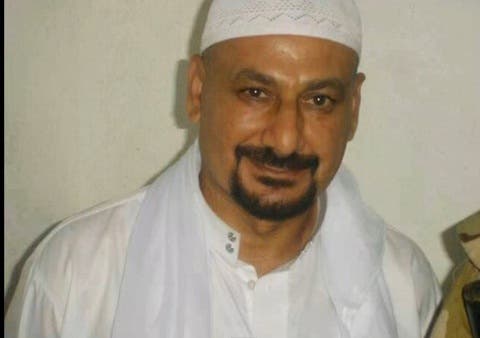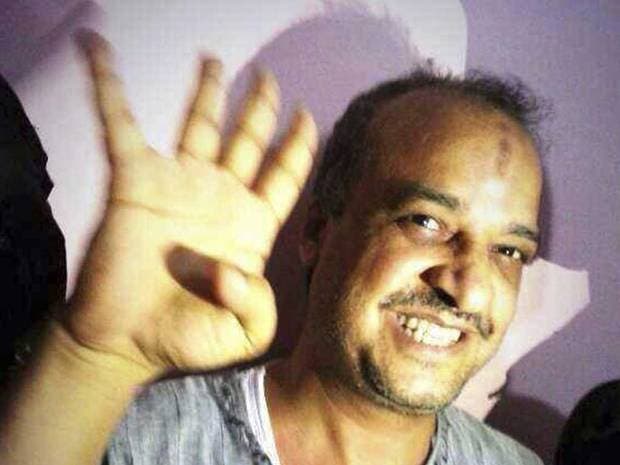 In October, Senior Muslim Brotherhood leader Essam el-Erian was also all smiles for the camera after being detained by security forces.
The smiles may be a move to send "several messages of reassurance to their followers and the Egyptian people in general," Kamal was quoted as saying, adding that by making a number of public smiles on regular basis, this would counter the sense of victory from their opponents who are "watching them being arrested."
Following Mursi's military-led ouster on July 3, authorities immediately clamped down on Muslim Brotherhood officials, detaining them as part of a government crackdown on Islamist opponents. Some Islamist leaders are facing trial on charges related to inciting violence in the country and the killing of protesters.
The Brotherhood had managed to keep large protest camps in Cairo powering on for six weeks to protest Mursi's ouster, which they deemed a military coup.
"Their smiles are not forced," Tariq Mursi, an official spokesman of the Muslim Brotherhood's Freedom and Justice Party, told Al Arabiya News on Monday.
"They believe in God's will and accept the situation they are in. According to Islamic teachings, a true Muslim must not oppose God's will. They believe they have been given a burden which they must still thank God for, no matter what."
'Psychological surrender'
But Mursi's smile has also provoked questions over the former leader's psychological health.
During the first session of his trial, Mursi reportedly refused to dress in the prison uniform mandatory for those on trial and appeared wearing a suit, smiling and telling the court that he was the country's "legitimate president."
"I see the judiciary as a cover for the treacherous coup," the former president stated. "You have no right to try me because I am your president," Mursi reportedly told the judge presiding over the case.
Egyptian political analyst and former member of the country's Shura Council, Abdallah Kamal, expressed concern over Mursi's mental state.
"I would've preferred if Dr. Mohammad Mursi underwent a psychological test after the first session of his trial as the behavior he displayed towards the judges may not be legally useful.
"The photos that show him smiling in his prison suit indicate he is not in control of himself. He may be suffering from a psychological problem," Kamal added to Al Arabiya News.
Mursi's weight has increased 12 kilograms since his detention, according to Kamal, citing insider sources.
"Such indicators raise questions over whether these are signs of depression or escape from reality.
"If some consider that his insistence on being Egypt's legitimate president and by not appointing a lawyer are an attempt to politicize his trial or inspire his supporters, then his smile does not reflect strength or even a state of denial.
"He didn't know the photos would be leaked to the press. The photo reflects a state of complete psychological surrender and confusion," said Kamal.
When Brotherhood spokesman Tariq Mursi first saw the former president's mug-shots on Sunday morning, he questioned the legality of their release, expressing anger at the current military-installed leadership.
"We have to ask the security forces and the government, is there a law which permits the release of images of the former president's pictures inside jail without his consent?"
"The fact that they are smiling is not the issue. We should ask why these images were released, not question how 'strong' Mursi looks. It's perfectly acceptable and required for him to appear strong in such a situation."