Rain lashes Abu Dhabi as storms hit Gulf region
UAE weather forecasters deny Gulf region would see its 'worst storm in 30 years'
A major sandstorm and thunderstorm are expected to hit the region on Thursday as heavy rain and hail started lashing parts of Abu Dhabi early in the morning with thundershowers forecast across the UAE.
The expected 45-knot winds and severe thunderstorms have also compelled the U.S. military to move an aircraft on display at the Dubai Airshow to a nearby maintenance facility, Reuters reported a spokesman for Air Force Central Command Major David Faggard as saying.
Air show organizers said precautions were being taken to secure the display area, but they were unaware of plans by other aircraft owners to move their aircraft.
"It is our understanding that the U.S. Department of Defense aircraft are due to be moved to the maintenance area at the Dubai Airshow as a precaution to any adverse weather over night and will be re-positioned on the static display tomorrow," Reuters quoted the airshow's organizer, F&E Aerospace, as saying in a statement.

The U.S. military brought a wide array of aircraft to the show, including two helicopters, a stealthy Lockheed Martin Corp F-22, four V-22 tiltrotor aircraft built by Boeing Co and Bell Helicopter, a unit of Textron Inc, a Boeing F-15E fighter and a B-1 bomber.

On Sunday, the UAE's National Center of Meteorology and Seismology has denied rumors, attributed to the U.S. Navy, saying that the Gulf region would see its "worst storm in 30 years" this week, the UAE-based Gulf Business website reported.
"The UAE will experience heavy rain. But there will be no flooding, cyclones or hurricanes across the Arabian Gulf," Sufiana Sarrah, meteorology specialist at NCMS, told Gulf Business.
"We emphasize that the country is currently under the influence of unstable weather conditions leading to a different intensity of rain over scattered parts of the country at varied intervals," he said.
Saudi floods
Meanwhile, in neighboring Saudi Arabia, floods sparked by torrential rain in largely desert kingdom have killed seven people over the past three days, Agence France-Presse quoted the civil defense authority as saying on Wednesday.
Schools and universities in the capital have been closed since Sunday.

Flooding of underpasses on major thoroughfares has sparked traffic chaos for Riyadh's more than five million residents.
Also, flooding in central and southern Iraq killed at least 11 people as rising waters swamped city streets and toppled buildings, sparking anger over the dilapidated sewage system, AFP reported officials as saying Wednesday.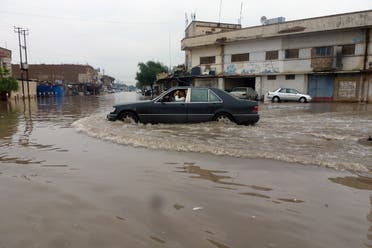 Three days of driving rain led to flooding in the capital, as well as major cities in the south, including Nasiriyah, Diwaniyah and Hilla, sparking protests among residents angry over poor public services.

Six people died in building collapses caused by flooding in Nasiriyah, while two women and a child were killed in similar circumstances in Diwaniyah.

In Babil province, south of Baghdad, two children died as a result of collapsing buildings, while more than 50 families had to take shelter at a tourist resort after their houses flooded.
Hurtling cyclone
Indian officials warned of a powerful cyclone that was hurtling Wednesday towards the country's southeastern state of Andhra Pradesh, a month after a killer storm forced one million people to flee their homes, AFP reported.

The National Disaster Management Authority (NDMA) advised the state administration to evacuate thousands from the path of Cylone Helen and forecast it would batter several districts of Andhra Pradesh on Thursday.

"Under the influence of the cyclone... extremely heavy rainfall would occur over south coastal Andhra Pradesh on November 21," the agency said.
Meanwhile, the victims of a cyclone that tore through the Italian island of Sardinia were buried on Wednesday as grieving family and friends demanded an explanation for the devastation inflicted on their communities, Reuters reported.

Authorities said 16 people had been killed by Cyclone Cleopatra, revising down a death toll of 18, as extreme rainfall inundated houses, swept away cars and caused rivers to burst their banks late on Monday. One person was still missing.
Meanwhile, the tropical Storm Melissa is racing over the north Atlantic, however, it poses no land threat, the Associated Press reported.
(With agencies)