Heavy rainfall lashes Gulf region
In Saudi Arabia, floods sparked by torrential rain have killed seven people over the past three days
A major thunderstorm hit the Gulf region on Thursday night with heavy rain lashing parts of Abu Dhabi, Dubai and the Saudi capital Riyadh, which was the scene of major flooding earlier this week.
Earlier climate forecasts compelled the U.S. military to move an aircraft on display at the Dubai Airshow to a nearby maintenance facility, Reuters reported a spokesman for Air Force Central Command Major David Faggard as saying.
Air show organizers said precautions had being taken to secure the display area, but they were unaware of plans by other aircraft owners to move their aircraft.
"It is our understanding that the U.S. Department of Defense aircraft are due to be moved to the maintenance area at the Dubai Airshow as a precaution to any adverse weather over night and will be re-positioned on the static display tomorrow," Reuters quoted the airshow's organizer, F&E Aerospace, as saying in a statement.
The U.S. military brought a wide array of aircraft to the show, including two helicopters, a stealthy Lockheed Martin Corp F-22, four V-22 tiltrotor aircraft built by Boeing Co and Bell Helicopter, a unit of Textron Inc, a Boeing F-15E fighter and a B-1 bomber.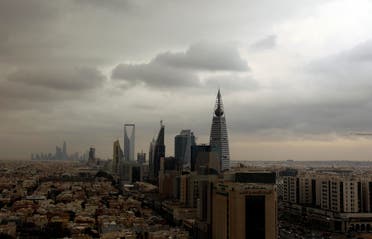 On Sunday, the UAE's National Center of Meteorology and Seismology has denied rumors, attributed to the U.S. Navy, saying that the Gulf region would see its "worst storm in 30 years" this week, the UAE-based Gulf Business website reported.
"The UAE will experience heavy rain. But there will be no flooding, cyclones or hurricanes across the Arabian Gulf," Sufiana Sarrah, meteorology specialist at NCMS, told Gulf Business.
"We emphasize that the country is currently under the influence of unstable weather conditions leading to a different intensity of rain over scattered parts of the country at varied intervals," he said.
In neighboring Saudi Arabia, floods sparked by torrential rain in largely desert kingdom have killed seven people over the past three days.
Schools and universities in the capital have been closed since Sunday.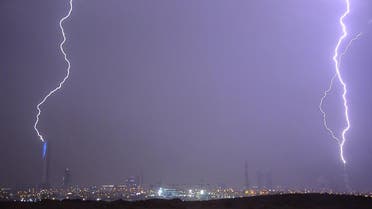 Flooding of underpasses on major thoroughfares has sparked traffic chaos for Riyadh's more than five million residents.
Also, flooding in central and southern Iraq killed at least 11 people as rising waters swamped city streets and toppled buildings, sparking anger over the dilapidated sewage system, AFP reported officials as saying Wednesday.