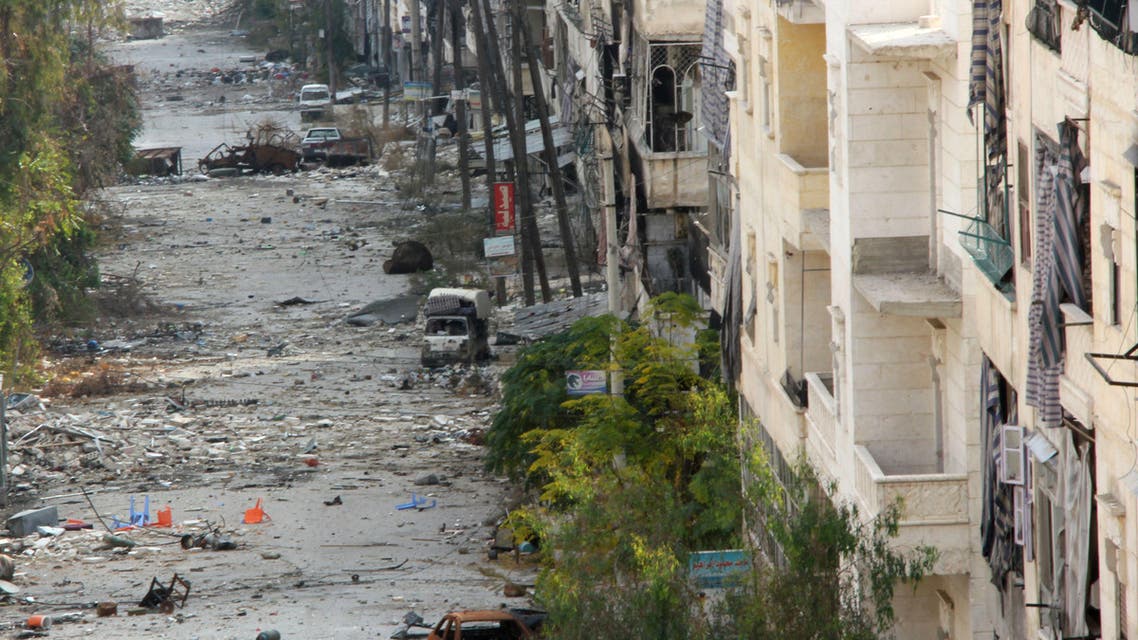 Syria army makes gains as peace talks await
Assad's regime holds large areas around biggest cities
Syrian government forces, bolstered by Lebanese and Iraqi Shiite Muslim militia, have made advances in recent days in fighting with rebels around the big cities of Damascus and Aleppo.
Some of the key clashes have been close to the Lebanese border, where deadly twin suicide bombings this week hit the embassy of Shiite-ruled Iran, Syria's main regional ally, in what was widely seen as a revenge attack.
Syrian troops, backed by fighters from Shiite militant group Hezbollah -- the dominant force in the current Lebanese government -- have expelled the rebels from most areas on the Lebanese border, across which they have received support from Gulf Arab-backed Sunnis.
A new offensive saw President Bashar al-Assad's troops retake key positions in the Qalamoun mountains northwest of Damascus this week, one of the last conduits from Lebanon for the arms his regime says they are receiving from Qatar and Saudi Arabia.
Those gains followed the recapture of southern suburbs of Damascus that impeded the rebels' ability to carry out military action in the heart of the capital.
Loyalist forces worked to consolidate a corridor to the international airport, east of Damascus, seizing an arc of territory from Shebaa to Muadamiyat al-Sham, scene of one of the alleged chemical weapons attacks that sparked a deal between the United Nations and Damascus in October.
The army's recapture of the suburbs of Husseiniyeh, Diabiyeh, Buweida, Sbeineh and Hojeira threatened the rebels' ability to maintain operations in south Damascus, a security source told AFP.
Dwindled hopes
It came as rebel hopes of Libyan-style Western support for their provisional administration have dwindled in the face of US pressure for a UN-brokered peace conference, also backed by Damascus ally Moscow.
Government forces hold the whole of the capital although rebels have repeatedly bombarded central districts from the outskirts.
The army also holds nearly all of the battleground central third city of Homs, cradle of the uprising against Assad's rule that broke out in March 2011.
Troops have also marched on the northern city of Aleppo, once Syria's bustling commercial capital, in a bid to consolidate supply lines to neighbourhoods under their control and deny those of the rebels.
"It's part of an overall strategy to surround the rebels," a military source in Damascus said.
"It's a patient, step-by-step way of retaking enemy positions."
The military's tactics have seen the recapture this month of a string of towns southeast of Aleppo, including Sfeira, Tal Aran, Tal Hasel, Aziziyeh and Dweirniyeh.
Open for civilians
The aim is to reopen Aleppo international airport to civilian flights, suspended in January, the military source said.
Al-Qaeda loyalists among the rebels have also taken a battering at the hands of Kurdish militia, eager to stake a claim to Iraq-style autonomy in any post-Assad constitution,
Assad's forces pulled out of most Kurdish-majority areas last year, counting on their lack of support for the Sunni Arab-dominated rebels and their acquiescence with his Alawite minority-dominated regime.
The sole provincial capital in rebel hands is the eastern, Euphrates valley city of Raqa, where Al-Qaeda fighters, many from abroad, have asserted their control.
The jihadists used to hold sway over a much bigger swathe of territory in the region, but Kurdish forces have fought back, seizing control of much of Syria's northeastern border with Iraq and Turkey.