Saudi Arabia's hajj minister Bandar Hajjar announced that the ministry has worked out an electronic system to streamline the flow of pilgrims during the peak Umrah season of Ramadan.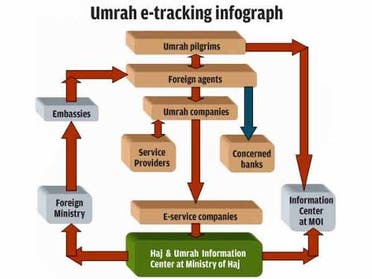 "The system sets a ceiling on the number of pilgrims arriving each month, and the number of pilgrims in the Makkah Haram won't exceed 500,000 in any day of Ramadan as they will be distributed between Makkah and Madinah," he told the Saudi Press Agency.
Hajjar said the ministry will continue the international electronic network to streamline the arrival and departure of pilgrims during the new Umrah season, which began on Dec. 4.
"The system will ensure that Umrah service providers are strictly complying with the regulations and directives as regards the services for pilgrims," he said, adding that there are 48 Umrah firms and about 2,000 foreign agents licensed for the new season.
According to Hajjar, the e-tracking system is the major highlight of the e-regulations introduced by the ministry.
"The system enables the ministry to control the entire process, including issuance of visas, entry and departure of pilgrims, monitoring of services provided to pilgrims etc.," he said.
Under the e-system, an Umrah visa applicant would apply through a foreign agent contracted with a Saudi Umrah company.
The foreign agent provides the data of an Umrah-visa applicant through the electronic network and links the application to the group of services.
The agent then pays for the services to the company via bank transfer.

The pilgrims' data are then provided to the Ministry of Interior, who will issue an electronic entry number for each pilgrim.
The numbers are provided to the Ministry of Foreign Affairs, which will issue the visa within five minutes, Hajjar said, adding that the foreign agent will be notified to appear at the Saudi embassy to have the visa issued in the applicant's passport.

This article was first published in the Saudi Gazette on Dec. 8, 2013.