Going pop: UAE to ban supersize sodas in anti-obesity drive
A New York-style ban on large drinks is planned in bid to fight obesity and diabetes
The UAE plans to introduce a ban on supersized fizzy drinks in a bid to reduce the country's chronic obesity problem, the government says.
Several measures designed to promote healthier living were agreed during a 'brain-storming' session attended by the UAE cabinet, according to the state news agency WAM.
The measures include "limiting the size of fizzy drinks, imposing controls on [the] advertisement of unhealthy foods and showing calories of food items," according to a statement.
No further details were given as to when the ban on large sodas would be imposed or a likely maximum size for drinks containers.
The UAE ranks as the fifth fattest nation in the world, according to a 2012 study published by a BMC Public Health journal. According to the International Diabetes Federation, more than 745,000 people have diabetes in the UAE.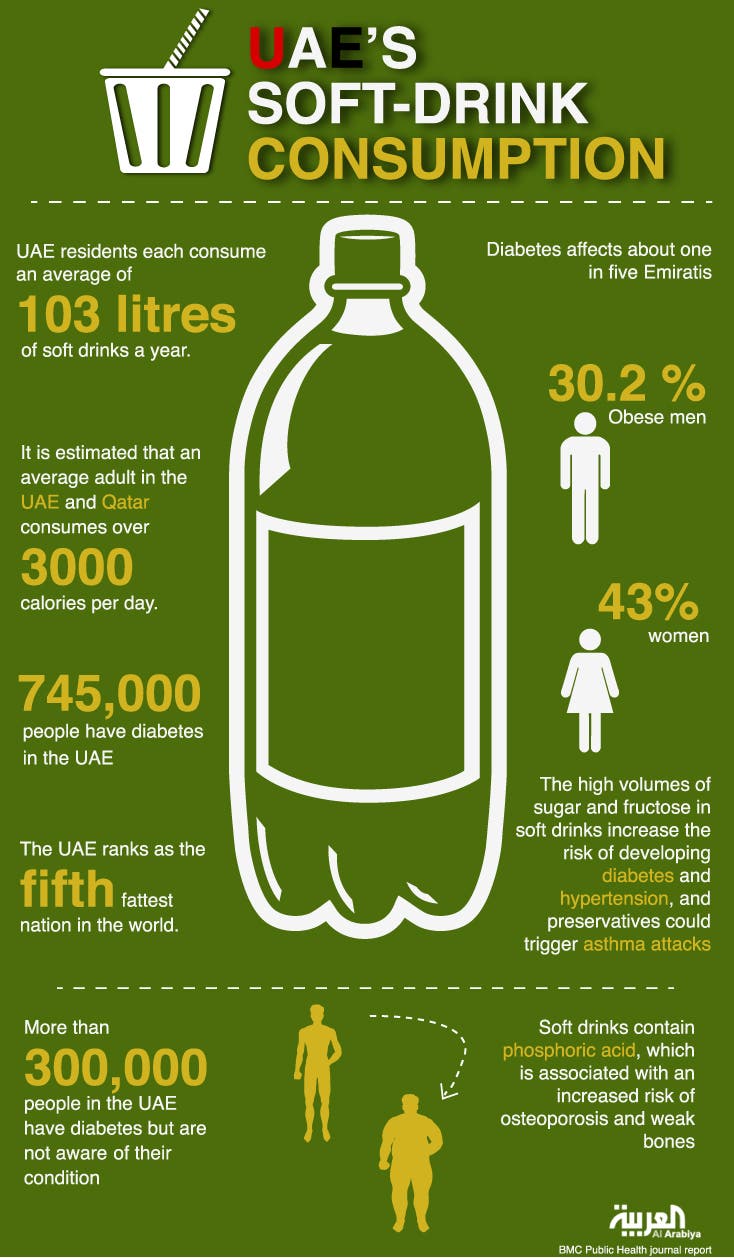 Caroline Kamil, a Dubai-based nutritionist, hailed the move and said the measure could raise awareness about the health implications of sugary drinks.
"This is a great move by the government," Kamil told Al Arabiya News.
"Even the smaller cup sizes of these pop drinks contain eight spoons' of sugar, surpassing an individual's sugar requirements for one day or more," she added.
"We do not know the side effects of these natural sweeteners as well," the nutritionist warned, adding that some people who suffer from obesity or diabetes still consume large quantities of these drinks.
Others said that supersized fizzy drinks are not directly to blame for obesity.
Antoine Tayyar, Director for Public Affairs and Communications at Coca-Cola Middle East, emphasized that a balanced diet and pursuing an active healthy lifestyle are key to wellbeing.
"No one single food or beverage alone is responsible for people being overweight, obese or diabetic," he said. "All calories count, whatever food or beverage they come from."
Tayyar also explained that "there is widespread consensus that weight-gain is primarily the result of an imbalance of energy – specifically too many calories consumed and not enough calories expended. There are no good or bad calories, only good and bad diets."
In 2009, Coca-Cola put a calorie count on the front of almost all the drinks it sells around the world. This took effect in the UAE and the Gulf region in 2011.
"We strongly believe in the importance and power of 'informed choice', and continue to support fact-based nutrition labeling and education and initiatives that encourage people to live active, healthy lifestyles," Tayyar said.
A ban on supersized fizzy drinks in the UAE would follow a similar proposal made in New York City by the outgoing mayor Michael Bloomberg.
Bloomberg, who will leave office in January, proposed a ban on the sale of sugary drinks larger than 16 ounces. The initiative has faced legal challenges, however, and the ban is yet to be enforced.
The UAE 'cabinet retreat' examined thousands of proposals, including many related to health.
"The health of our citizens cannot be measured by any cost and treatment anywhere is a vested right for them," said Sheikh Mohammed bin Rashid Al Maktoum, the UAE's Vice President and Prime Minister and Ruler of Dubai, in a statement.
Other UAE health initiatives announced this week include an early cancer-detection program, a national database for medical records, and the implementation of common standards for healthy food in government and private schools.