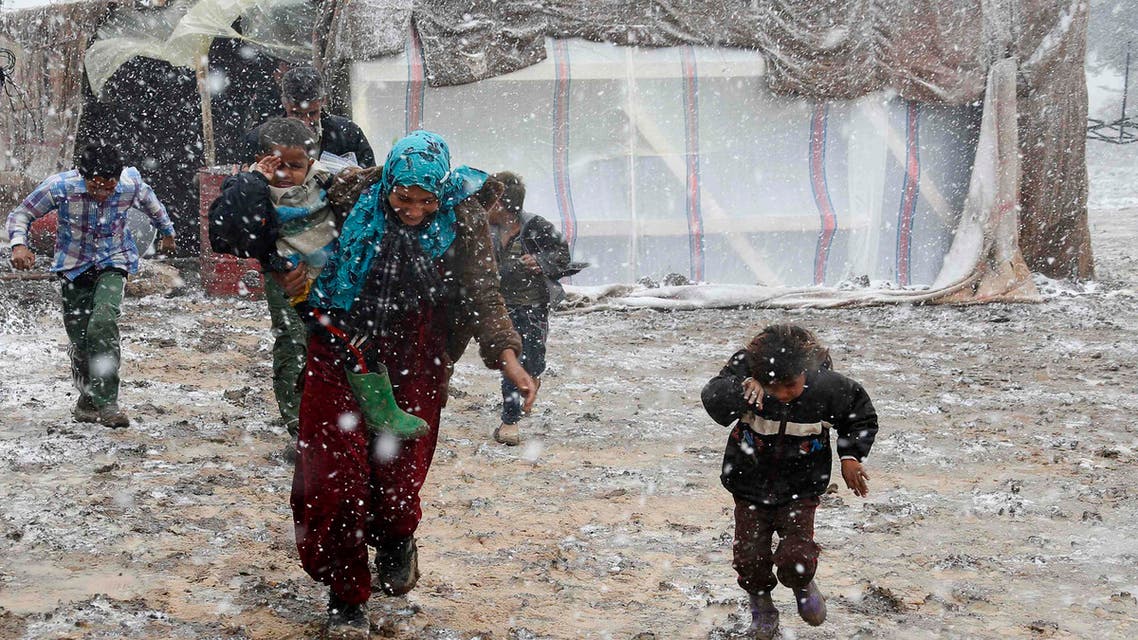 Syrians suffer amid winter storm
Freezing temperatures are stopping aid from reaching parts of the war-torn country
The Syrian humanitarian crisis has deepened as powerful winter storm Alexa hits the war torn country leaving the 6.5 million people displaced within the country suffer from freezing temperatures.
Alexa, which hit Syria on Wednesday, has caused the death of nine Syrian children - including newborn infants - due to the severe weather conditions, Al Arabiya News Channel quoted activists as saying.
The freezing temperatures in Syria have prevented the United Nations from bringing supplies to thousands of displaced people in the conflict-stricken country.
The first U.N. airlift of aid items from Iraq to Syria - which has been given the go-ahead by both Syria and Iraq's governments - has been delayed for a second day.
"Qamishli airport remains closed, but apparently weather conditions are improving," Peter Kessler, the United Nations High Commissioner for Refugees spokesperson said, according to Agence France-Presse.
Increasingly dangerous
The UNHCR plans to fly some 40 metric tons of aid into the area, which has become increasingly dangerous to reach, providing "core relief items for 10,000 families, or about 50-60,000 people," Kessler said this week.
The U.N. World Food Program and children's agency UNICEF will also send aid into Syria via air.
UNHCR said it plans to spend $195 million to help "winterize" Syria and the surrounding countries.
As part of the program, the agency has already begun distributing items such as tents, plastic sheeting, and warm clothing, as well as money to buy fuel.
Meanwhile, the World Food Programme said it is distributing 10,000 liters of fuel for cooking and heating to internally displaced families living in ten shelters in Damascus, according to Reuters.
The organization's director said that Syrians are suffering even more this year as they have no shelter.
"Syria is always quite cold in winter but it is quite different when you face a fierce winter in a shelter with very limited resources rather than in the comfort of your own home," Matthew Hollingworth, the Syria director of the World Food Program said.
Fighting in the snow
Despite the weather, clashes raged on this week in Syria, where rebels have been fighting for more than two and a half years to bring down President Bashar al-Assad's regime.

Images on social media platforms showed rebels marching through the snow carrying weapons and rocket-propelled grenades, according to Reuters.

The stormy conditions, which began on Wednesday, are due to last till Saturday, bringing more snow, rain and freezing temperatures to Syria as well as Lebanon, Turkey, Israel and Palestine.
The harsh winter storm which swept the eastern Mediterranean this week has caused mayhem across the region and inflicted further misery on Syrians embroiled in civil war and refugees who have fled the fighting.