Israeli PM vows to expand settlements
Netanyahu's comments come amid warnings that peace negotiations with the Palestinians could break down
Israeli Prime Minister Benjamin Netanyahu has vowed to continue developing settlements amid warnings that peace negotiations with the Palestinians could break down.
"We will not stop, even for a moment, building our country and becoming stronger, and developing... the settlement enterprise," he said in remarks on Wednesday to his rightwing Likud faction, which were broadcast on army radio on Thursday, AFP reported.
Xavier Abu Eid, adviser at the Negotiations Affairs Department (NAD) of the Palestine Liberation Organization (PLO), said that the move showed a "lack of seriousness on the Israeli side" concerning the peace process. "[Israel] cannot say that it wants a two state solution and continue building on the land of Palestine," he told Al Arabiya News.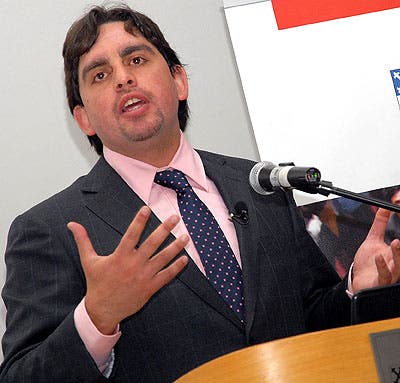 Under pressure from the U.S., the Israelis and Palestinians resumed negotiations last summer, agreeing to talk for nine months with the goal of a permanent peace agreement.
But recent months have seen an uptick in deadly violence in the West Bank, with the U.S. now setting its sights on a preliminary deal.
Israel has released Palestinian prisoners as a sign of good faith, but since negotiations have begun it has announced plans to build some 5,992 new housing units.
Further exacerbating tensions, Israeli soldiers reportedly killed two Palestinian men this week.
Israeli troops had killed a member of the Palestinian security forces in an exchange of fire in the northern West Bank, AFP reported last night.
"During an ambush organized to arrest an armed man... who had fired on Israeli soldiers several times in recent weeks, the man opened fire on soldiers, who fired back," the Israeli army said. "We later learnt that he had been killed."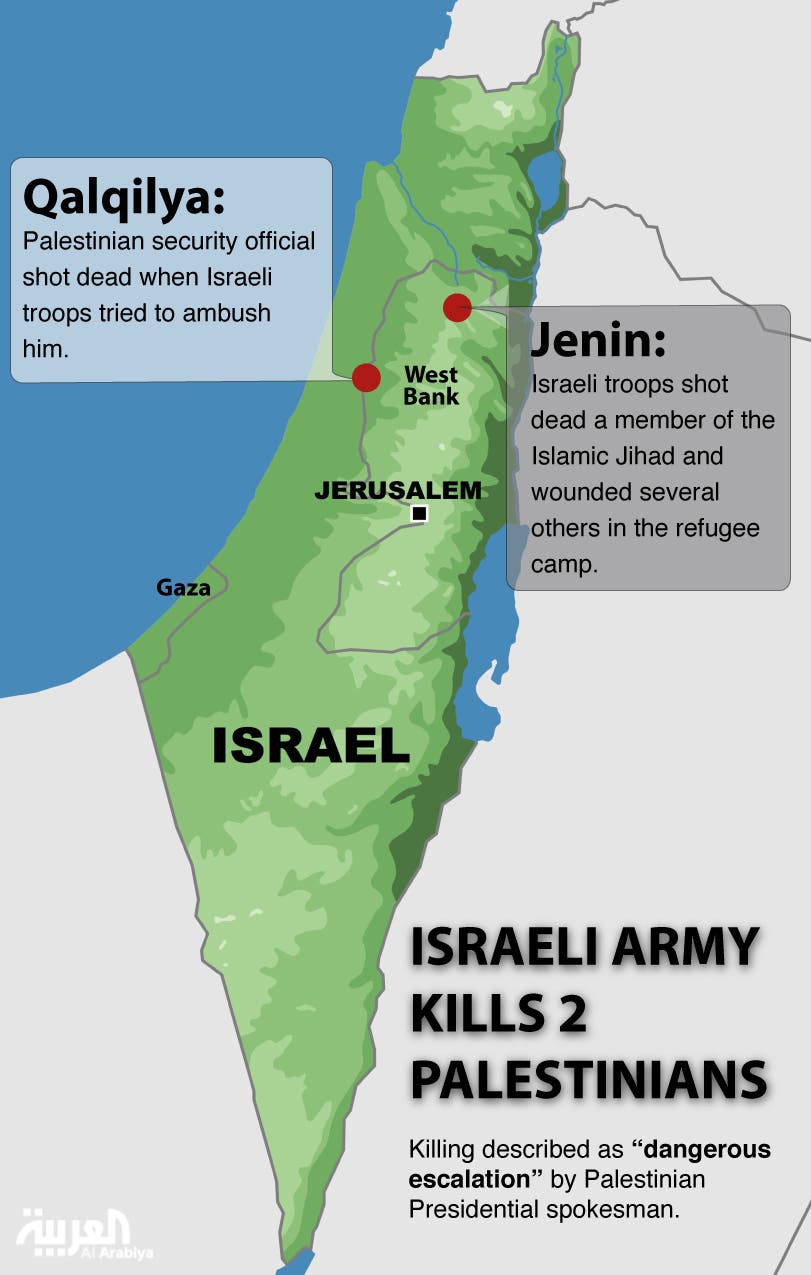 Palestinian security sources identified the dead man as intelligence officer Saleh Yasin, 29.
He was on his way home when he was ambushed by the Israeli soldiers, the sources said.
Another Palestinian was shot dead by the Israeli army, and several others wounded, in clashes that erupted following a similar arrest operation in Jenin, also in the northern West Bank, on Wednesday evening, sources on both sides said.
Palestinian security sources named the man killed in that exchange as Nafaa al-Saedi, 23, of the radical Islamic Jihad movement.
Al Arabiya's Ramallah Office said the Palestinian Presidency Office on Thursday condemned the killings of the two Palestinians.
In a press conference, Palestinian Presidential Spokesman Nabil Abu Rudeineh said the Israeli escalation aims at hindering U.S. peace efforts and will bring peace talks to an end. Abu Rudeineh called for a quick international response to the Israeli actions.
The PLO advisor Abu Eid echoed similar sentiments.
"[Israel's actions] should make the international world, especially the U.S. and European Union, who have been especially active, to hold Israel accountable for their actions. Just because Palestine is committed to the process doesn't mean the international community should stop committing to their own obligations of holding Israeli accountable for its war crimes."
The deaths brought to 28 the number of Palestinians killed by Israeli forces this year, the great majority of them in the occupied West Bank, according to an AFP tally.
Despite such setbacks, Abu Eid did not rule out progress in the peace negotiations.
"[The peace process] doesn't have to end," he said. "We have committed for nine months to peace talks and Palestine will remain committed for those nine months. And we expect, we hope, that something can be done over the few months left," stated Abu Eid.