Syria vanishings, 'secret jail' abuses exposed
U.N. and Amnesty point to shocking treatment of civilians by both Assad forces and Islamist militant group
Frequent 'vanishings' in Syria and a catalogue of abuses perpetrated in 'secret jails' in the country were today revealed in separate reports by the U.N. and Amnesty International.
Shocking treatment of civilians was allegedly perpetrated by both pro-Assad forces and an al-Qaeda-linked Islamist militant group, it was reported.
Islamist militants are perpetrating "a shocking catalogue of abuses" in secret jails across northern Syria, including torture, flogging and killings after summary trials, Amnesty International said on Thursday, according to Reuters.
Amnesty said in a report that the al-Qaeda-linked Islamic State in Iraq and the Levant (ISIL), one of the most powerful jihadi groups to emerge from Syria's almost three-year-old conflict, is operating seven clandestine prisons in rebel-held areas.
Detainees are held for reasons ranging from suspected theft to offences against Islam such as smoking or sex outside marriage. Others are seized simply for challenging ISIL authority or belonging to rival armed groups, it said.
"Those abducted and detained by ISIL include children as young as eight who are held together with adults in the same cruel and inhuman conditions," said Philip Luther, Amnesty's Director for the Middle East and North Africa.
Human rights abuses have been rife in Syria's civil war, with forces loyal to President Bashar al-Assad responsible for many of the worst ones, according to the United Nations.
A U.N. panel probing war crimes in Syria reported Thursday that people around the country are systematically vanishing without a trace as part of a widespread campaign of terror against civilians, according to the Associated Press.

The expert panel said it found "a consistent country-wide pattern" of Syrian security, armed forces and pro-government militia seizing people in mass arrests or house searches and at checkpoints and hospitals, then making them disappear - and denying that they even exist. Most of the victims have been young men.

Among the cases were a 60-year-old woman put in Homs prison for asking about her missing son, and a peaceful protester's brother taken in a house raid by political security agents.

An Air Force defector has described orders not to provide information about the whereabouts of detainees or to speak to their relatives, the report said.
Syria torture report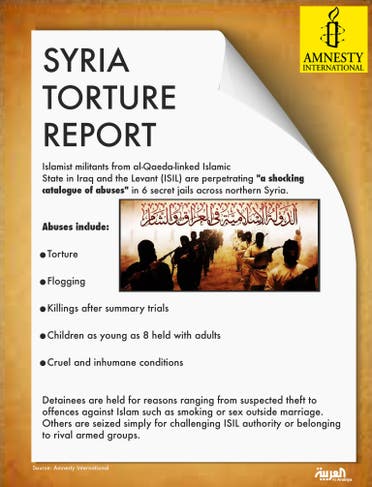 The four experts' report, like the Amnesty paper, also said that ISIL had begun seizing people and running secret prisons.

It said the opposition group's abductions of human rights advocates, journalists, activists, humanitarian workers, religious leaders and perceived supporters of President Bashar Assad's government usually differ because the victims tend to be taken as hostages for ransom or prisoner exchanges, and their existence isn't concealed. However in recent months the groups have also begun adopting the government's practice of making people vanish.
(With Reuters and AP)