Syria Geneva preparatory meeting opens
U.N.-Arab League envoy Brahimi is meeting with U.S. and Russian delegations to prepare for Syria peace talks in Geneva
U.N.-Arab League envoy Lakhdar Brahimi is holding fresh talks on Friday with U.S. and Russian negotiators as they seek to smooth the way to a January peace conference on Syria.

The veteran mediator's intensive shuttle diplomacy between Geneva, the Middle East and the capitals of world powers last month helped finally set January 22 as the start date for talks in Switzerland.

On the eve of Friday's meeting, Brahimi confirnmed that the Syrians themselves would have to drive the talks between the government and rebels.
"There's a necessity for national ownership of this process," he said at the U.N. in Geneva.

Brahimi and Jeffrey Feltman, the U.N.'s political affairs chief, were to meet with Russian deputy foreign ministers Mikhail Bogdanov and Gennady Gatilov, and senior U.S. State Department official Wendy Sherman.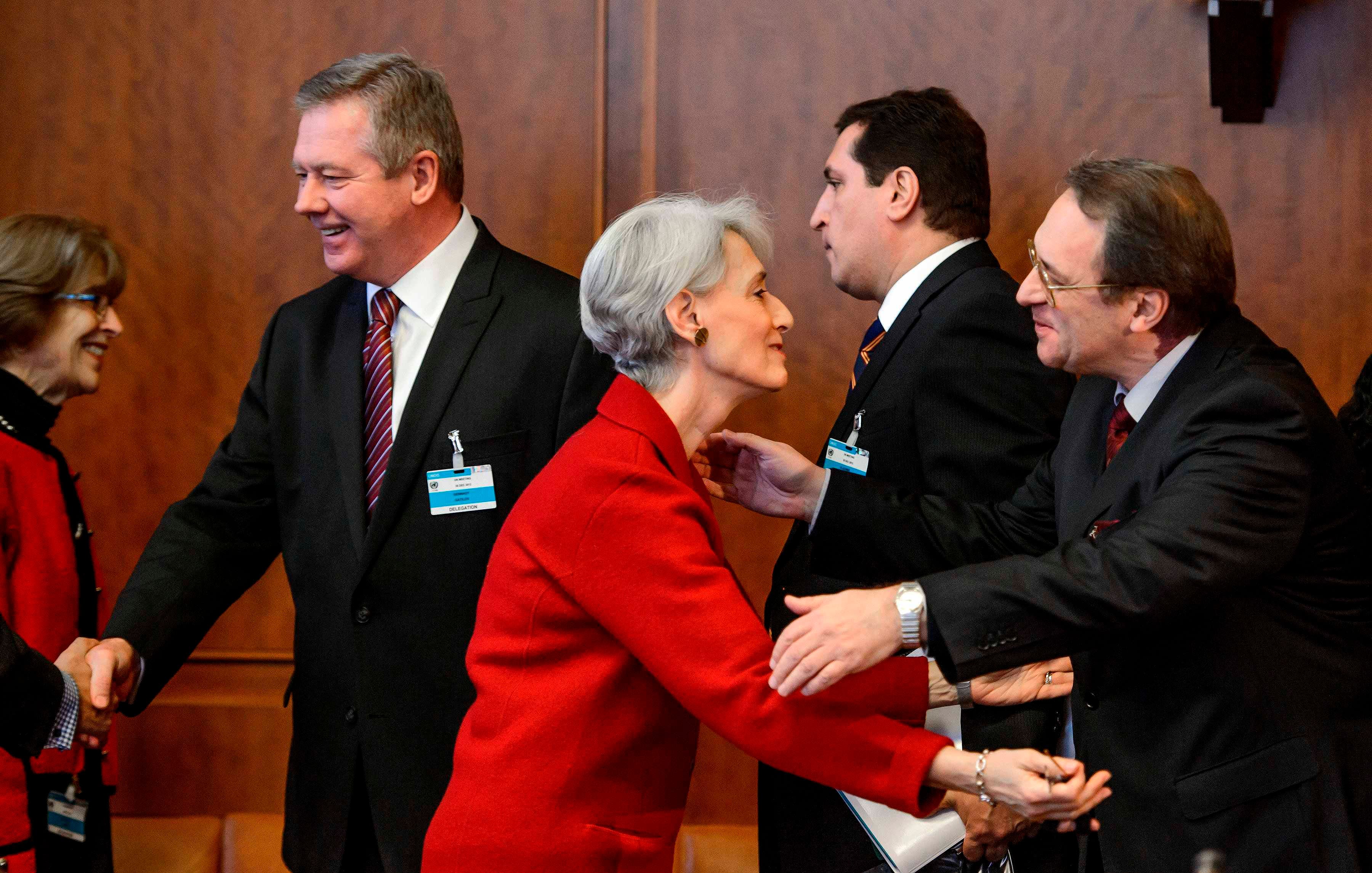 Talks were also scheduled with fellow U.N. Security Council permanent members Britain, France and China, plus envoys from Syria's neighbors Iraq, Jordan, Lebanon and Turkey, the European Union and the Arab League.

All eyes are on the potential list of participants from Syria, amid opposition rifts between supporters of negotiations and hardliners who say even talking to the regime of President Bashar al-Assad is a betrayal.

It is not clear how much headway Friday's talks would make on the participant issue, which also centers on which Middle Eastern countries should take part -- beyond Syria's neighbors who have taken in the overwhelming majority of the war's 2.4 million refugees.
Syrian opposition
The commander of the opposition Free Syrian Army, Salim Idriss, urged all opposition fighters to join ranks in the struggle against President Bashar Assad's forces, pledging to do everything he can to stave off rebel infighting.
In remarks to Al Arabiya News Channel on Friday, Idriss said all rebels in Syria who believe in the "goals of the revolution" are "our brothers."
His comments suggested he was trying to limit the damage from deadly infighting among moderate and extremist rebel factions ahead of a peace conference for
Syria scheduled to be held in Switzerland in January.
The faction that Idriss leads, the Supreme Military Council of the Free Syrian Army rebel umbrella group, has been dealt a severe blow by the rapid rise of Islamist extremist groups in Syria.
Lavrov statements on Assad
Russian Foreign Minister Sergei Lavrov said on Friday that Assad did not ask Russia to assure his safety in case he steps down.
"We have received no such requests either from Assad or anyone in Damascus," Lavrov told Russian news agency RIA Novosti.
"[Assad] repeatedly said he wasn't going to leave his country and wished to stay with his people and fulfill his duties," Lavrov added.
The Russian minister has also said he does not rule out the option that Assad will take part in upcoming presidential elections to be held next year.
"Indeed, he said he didn't exclude the possibility of running for presidency once again next year. He will make a decision closer to an election and it will depend on whether he would feel the support from the people," Lavrov added.
(With AFP and Associated Press)