Iraqi security forces kill 55 Qaeda fighters
Iraq's Prime Minister Nuri al-Maliki vows to eliminate 'all terrorist groups' from Anbar
As Iraqi Prime Minister Nuri al-Maliki vowed on Saturday to eliminate "all terrorist groups" from Anbar, the country's security forces killed 55 al-Qaeda-linked fighters in two areas near the Sunni province's city of Ramadi.
Staff General Ali Ghaidan Majeed told Agence France-Presse that 25 fighters from the Islamic State of Iraq and the Levant (ISIL) were killed in one operation and 30 in a second.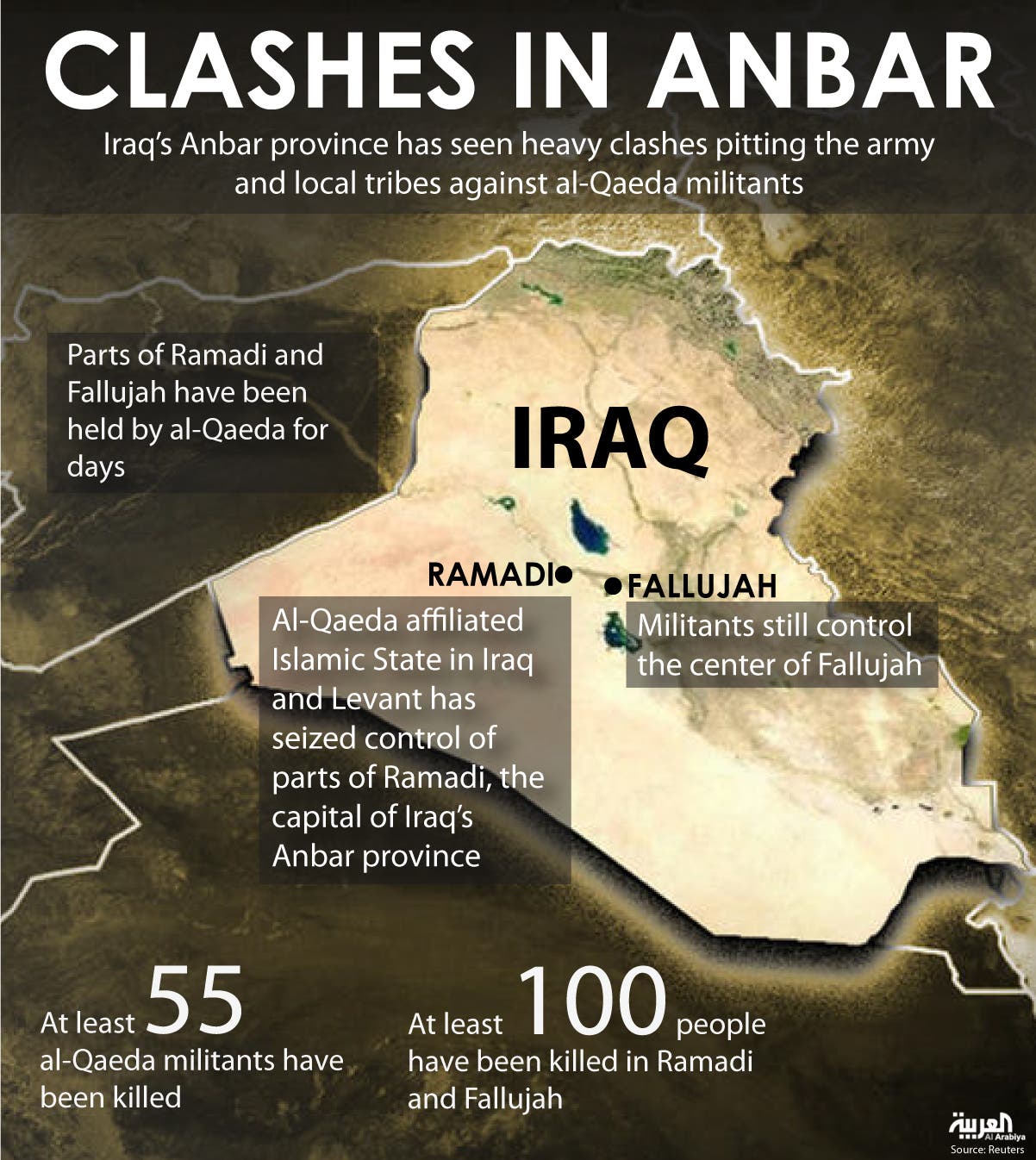 Parts of Anbar's Ramadi and Fallujah cities, west of Baghdad, have been held by militants for days, harkening back to the years after the 2003 U.S.-led invasion when both cities were insurgent strongholds.
"We will not back down until we end all terrorist groups and save our people in Anbar," AFP quoted Maliki as telling Iraqiya state television.
Hamid al-Hashim, member of Anbar's provincial council, told Al Arabiya News Channel Saturday that the inner part of Fallujah city has fallen under ISIL's control for the past three days.
But he said "tribes in the western areas in Fallujah were heroic in their fight against ISIL, and are currently reorganizing themselves to liberate the city."
The allied forces of local police and tribesmen made up those fighting the militant group, but officials said eight Iraqi soldiers were killed Saturday during clashes in Ramadi and Fallujah.
Tribal leaders and officials also said Iraqi troops were trying to retake Anbar from a mixture of Islamist and tribal foes in Ramadi overnight after shelling Fallujah.
At least eight people were killed and 30 were wounded in Fallujah, and residents of both cities said the fighting had limited their access to food, and that they were running low on generator fuel.

Shops were sending food to mosques, and people were being asked through loudspeakers to go to collect it.
On Friday alone, fighting between police and allied tribesmen on one side and ISIL militants on the other, killed more than 100 people in Ramadi and Fallujah, security officials said.
Hashim said "police are now being equipped with newer and more fatal weapons" and the tribes in Anbar have succeeded in recruiting 1,500 men to push ISIL away from the city.
On Wednesday, Maliki pulled the military out of the Anbar cities to give security duties to local police to appease Sunnis who see the army as a tool of the prime minister's rule. But al-Qaeda militants promptly erupted in Fallujah, Ramadi and several nearby towns, overrunning police station, driving out security forces and freeing prisoners.
Fighting has been ongoing in Ramadi since Monday when security forces removed the main anti-governmental protest camps.
Demonstrations there started in late 2012 against what Sunni Arabs say is the marginalization and targeting of their community.
The protests then spread to Fallujah causing security forces to withdraw from both areas, leaving room for al-Qaeda-linked militant group the Islamic State of Iraq and the Levant to move in.
Meanwhile, Iraq's parliamentary speaker, Osama al-Nujaifi, called for urgent humanitarian assistance for the people in Anbar. Reports of people fleeing the fighting circulated but Anbar's mayor on Saturday denied that civilians were leaving.
U.S. condemns Qaeda
The United States on Saturday said it was closely watching developments in Anbar and condemned al-Qaeda-linked fighters for committing "barbarism."

"Their barbarism against civilians of Ramadi and Fallujah and against Iraqi Security Forces is on display for all to see," State Department deputy spokeswoman Marie Harf said in a statement.
The United States was in "close contact" both with Iraq's political leaders and with "tribal leaders from Anbar province who are showing great courage as they fight to eject these terrorist groups from their cities," Harf said.

Some tribal leaders have "declared an open revolt against ISIL," she said, adding the U.S. aims to "support those tribes in every possible way."


(With AFP and AP)