Saudi Arabian Airlines jet makes emergency landing at holy city
The airport was closed and all domestic and international flights were cancelled
A Saudi Arabian Airline plane was forced to make an emergency landing in Prince Mohammad bin Abdulaziz airport in Madinah, Al Arabiya News channel reported on Sunday.
The Saudi Boeing 767-300ER, which was traveling from the Iranian city of Mashhad with 315 passengers on board, suffered landing gear failure.
"The pilot of the plane told Madinah's airport's air traffic control tower about a technical glitch in the rear wheels and a defect in the aircraft's hydraulic system," said Hani al-Safian, an Al Arabiya correspondent in Riyadh.
"The control tower called upon fire fighters as well as all relevant security authorities at the airport and a foamy substance was sprayed on the runway to limit friction during the landing," Safian said.
The expertise of the senior captain helped in a safe landing as he was able to stop the aircraft at the end of the runway, the correspondent added.
Al Arabiya images show that the damages were at the rear end of the plane.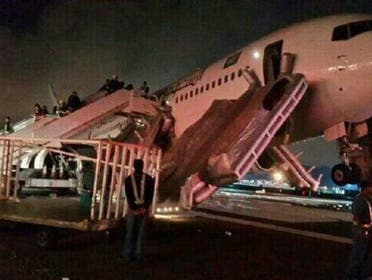 The runway was damaged because the plane landed without its wheels, leaving it unusable, and forcing all domestic and international flights to be cancelled.
The official spokesman of the General Authority of Civil Aviation, Abdullah al-Khaybari, told Al Arabiya News Channel that "29 passengers were injured, 11 were transferred to the hospital, and the 18 others, who had minor injuries, were treated at the airport's clinic."
While there were no passenger casualties, there were reports of human body parts falling from the sky over the city of Jeddah.
"Police received a telephone call at 2:30 am from a witness reporting the fall of human remains at an intersection in Mushrefa neighborhood" in the Red Sea city, spokesman Nawaf bin Naser al-Bouq said in a statement.
Police initially said they could see the remains of a person trapped in the airplane's wheel bay.
Initial indications were that the remains "fell from a plane's landing gear," Bouq said, adding that investigations were ongoing.