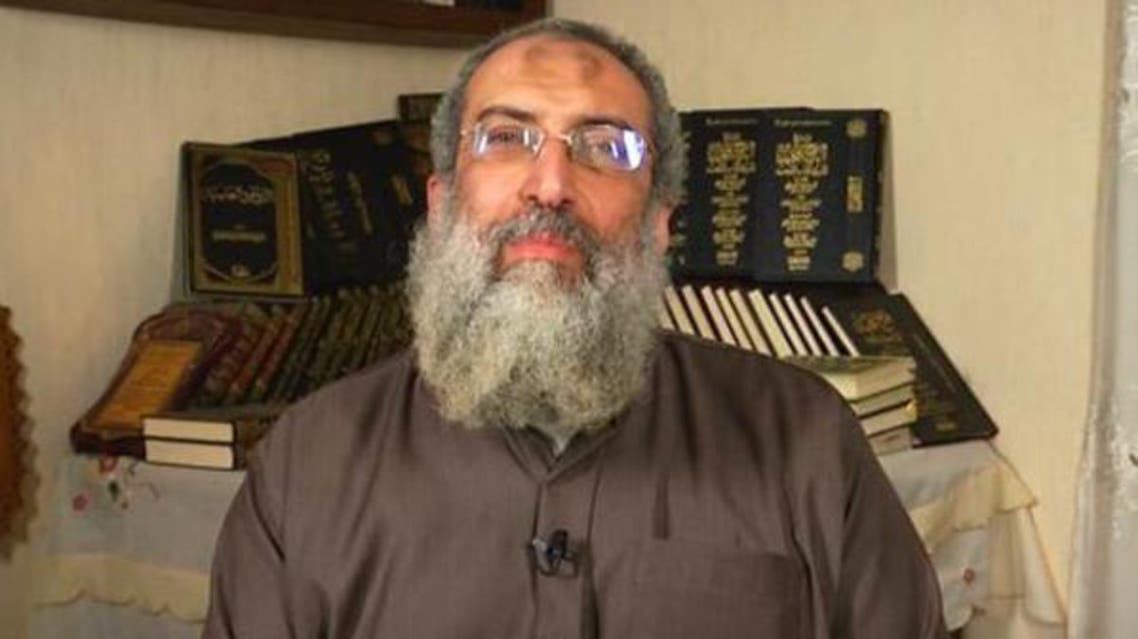 Egypt's Salafist official: 'Courts decide who are the terrorists'
VP of al-Dawa al-Salafiya says Sulafist movement not 'substitute' for Brotherhood
Egyptian courts and not the government are the designators of who are "terrorists" and "criminals" in the country, Yasser al-Burhami, the vice president of al-Dawa al-Salafiya told Al Arabiya News Channel in an interview to be aired Friday, referring to the recent Muslim Brotherhood 'terrorist' label.
Burhami, who claimed that his Salafist movement and its political arm the Al-Nour party represent the majority in Egypt, hailed his group's "moderate position," which creates "a positive atmosphere in the Egyptian society."
"The position of the 'Salafist Call' and 'al-Nour' party has made the people accept the 'Islamic project,'" he added.
After the popularly-backed military coup toppled Islamist Mohammed Mursi on July 3 last year, the interim government banned political parties that are rooted in religion.
Burhami denied that a ban was imposed on Islamic-oriented parties such as the Al-Nour Party or the Brotherhood's Freedom and Justice Party (FJP) because they conform to the second article of the Egyptian constitution which states that Islamic Sharia is the main source of legislation.
"The freedom of beliefs abides by the Islamic Sharia," he said.
The Islamist group's vice president also said that his Salafist movement is not a "substitute" for the Brotherhood, but rather an important "pillar" in Egypt.
Burhami said he was not against the idea of democracy since it is referenced in Islam, but he is against the Western-style democracy, which, according to him, "allows the people to make their own decisions as to what is prohibited and what is allowed without resorting to God."
He denied the involvement of his movement provoking violence on the streets.
"The Salafist Call and al-Nour party condemns the indiscriminate killings of protestors and labels the army and police as infidels," he said.
The party still claims it is independent and not drifting behind the current movement in support if the interim government's policy.
"We have made 40 statements criticizing the current regime and many of its actions," Burhami pointed out.
To describe the movement's independent yet paradoxical position, he highlighted how his movement "opposed Mursi and at the same time, stood by him in many cases."
"We were opposed to Mursi regarding the Shiite affair but stood by him until millions turned against him."
Salafists in Egypt were against the country thawing ties with Iran.