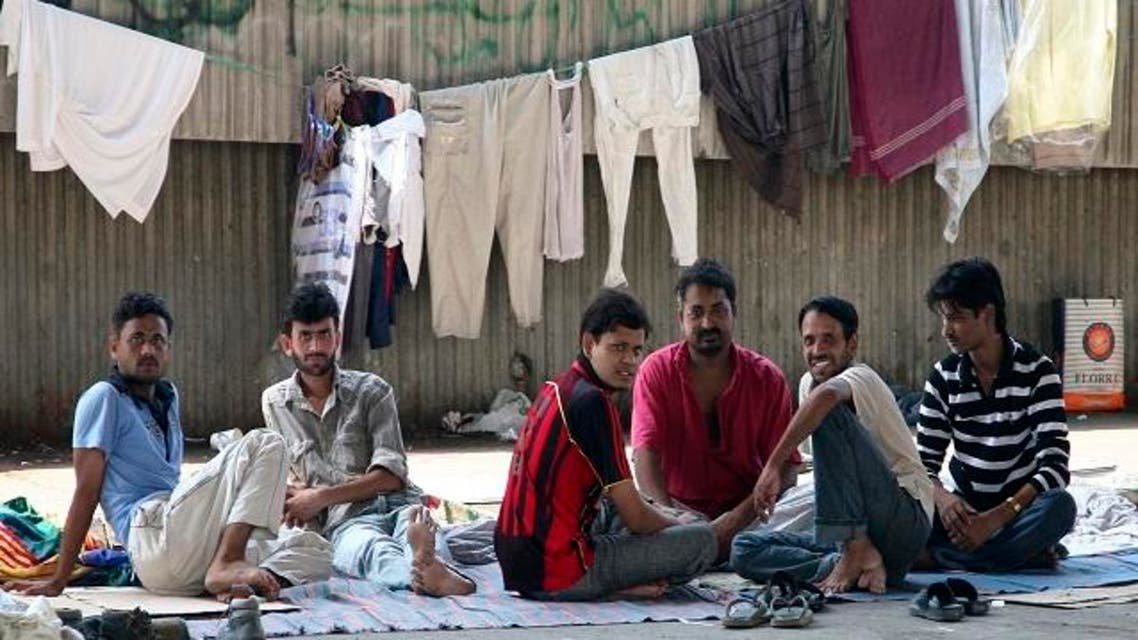 Illegal expat workers back on Jeddah streets
Illegal workers are back on the streets of Jeddah following a perceived let up in the crackdown campaign
Illegal workers are back on the streets of Jeddah following a perceived let up in the crackdown campaign.
Jeddawis noted illegal expatriates disappeared from the streets during the first weeks that followed the end of the amnesty period to avoid being deported, but now with the crackdown campaigns receding they are back at their old places in various parts of the city.
However, sources from the Ministry of Interior stressed that the campaigns against the violating expatriates were continuing with the same intensity. Many illegal expatriates are being detained and deported daily, they claimed.
Mecca Police's head of information and public relations Lt. Col. Atti Bin Attiya Al-Qurashi told an Arabic language daily newspaper that the crackdown campaign against expatriates violating the system of residence and work is continuing unabated. "We know very well where to look for the violators to detain them," he said. But many residents don't agree.
"The violating expatriates are back at their old places offering cheap manual labor. We can now see the peddlers pulling their carts in the streets, car washers doing their job peacefully in the parks of shopping centers and near the government departments and beggars gathering around traffic lights," said Omar Al-Faidi, a Saudi.
Abdullah Al-Ahmari, another Saudi, was surprised to see a large number of illegal workers in many areas including Bani Malik, Al-Thamaneen Street, Kilo 8 and the Al-Harazat district. He said: "You will see many of these workers sitting in front of houses waiting for any citizen to seek their services. The families are scared of them, fearing a repetition of the incidents that took place at Riyadh's Manfuhah district where illegal Ethiopians clashed with police and citizens."
Ahmed Al-Aydi, a resident of Bani Malk, questioned why the crackdown campaign appeared to stop. He said illegal workers have become more daring than they were before.
"The car washers are now doing their work right in front of my house and the beggars will not hesitate to knock on my door in broad daylight. The situation is simply unbearable," said Al-Aydi.
Mahmoud Al-Omari, a citizen from Quwaiza, said he informed the passport police several times about the presence of illegal workers in the district but nothing was done. "Why has the crackdown campaign receded? What can we do to end this phenomenon, which has now become more conspicuous than before?" he questioned.
Abdul Mohsen Falahi, an owner of a shop selling building materials in the Binladen district, said illegal workers are selling their goods right in front of his shop.
He said he had corrected the status of all his workers but is now considering closing down his shop because business is suffering due to these expatriates' activities.
Bashir, a Pakistani construction worker who sits in a certain place on Palestine Street, said illegal expatriates locked themselves inside their homes after the end of the amnesty period but they came out again when they noted that the crackdown campaign was not as intense as expected.
"The campaign did not last more than five days, after which we were back at our old places," he said.
Hussain Hassanain, an Egyptian plumber, said he usually sits near the so-called Workers' Bridge waiting for possible customers. He said he rarely sees Jawazat cars and when he does, he hides or runs away. "I only saw the security patrols approaching the area once or twice and I ran away with the others in what we called the 'Great Escape'," Hassanain said.
Aleemullah, a Pakistani electrician who is working in the Kilo 8 district, said he came to the Kingdom about two months ago on a free work visa for which he had paid SR14,000. "My sponsor does not have any job for me so I have to go out on the street to earn my living and get back the money I paid for the visa," he said.
Osman, a Sudanese construction worker, believed the crackdown campaign was not serious and was only announced to frighten illegal workers. He said: "The situation is gradually going back to what it was before. The streets of Jeddah are now replete with illegal workers."
Fareed Abd Rabbo, an Egyptian mason, said he would not remain locked at his home and would go on the streets anyway to earn his living.
"What is destined to happen will happen regardless of any precaution," he said.
(This article was first published in Saudi Gazette on Jan. 15, 2014)