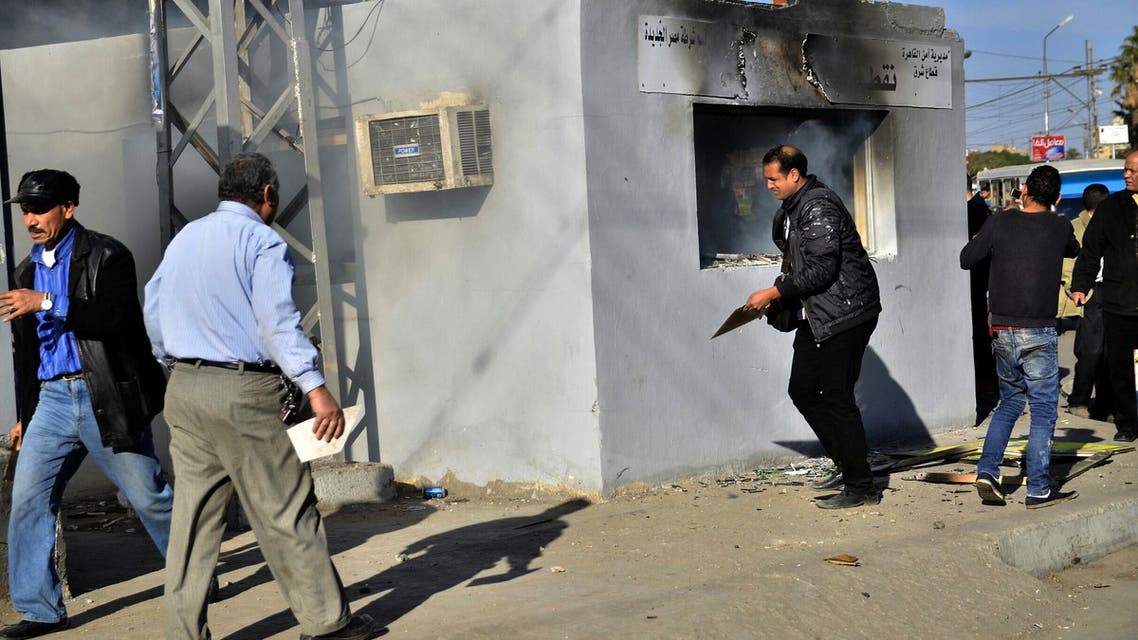 Mursi supporters protest in central Cairo
Members of the Muslim Brotherhood torched a police station in Roxy
Supporters of ousted President Mohammad Mursi marched to Cairo's Ittihadia presidential palace on Wednesday as Egyptians queued to vote on the second, final day of a key referendum on the country's new charter.
Al Arabiya's Cairo correspondent reported that members of the Muslim Brotherhood set a police station ablaze in Heliopolis, an upscale Cairo district, where the palace is located.
The Interior Ministry quickly deployed a large anti-riot police force, which confronted the protesters at Roxy Square and fire teargas to disperse them.
Supporters of Mursi have vowed to escalate protests during the constitutional referendum, which is set to grant popular support for the military established political order.
On Tuesday, the first day of voting on a newly drafted charter in Egypt, 11 people were killed and 28 others wounded nationwide in confrontations between Brotherhood supporters and police, according to the Health Ministry.
Meanwhile, a small bomb exploded near a court building in the Imbaba neighborhood of Giza, across the river from Cairo, damaging a court building but injuring no one, a police official said.
Around 250 people were also arrested including some Brotherhood members for disrupting the polling in some areas.

Tuesday's violence highlighted the government's precarious grip on the most populous Arab nation, still reeling from Mursi's ouster and a crackdown on his supporters.

More than 1,000 people have been killed in clashes since Mursi's ouster, and thousands have been arrested including the top leadership of the Muslim Brotherhood to which the ousted leader belongs.

U.S. State Department deputy spokeswoman Marie Harf, meanwhile, said that the United States was concerned by reports of violence during the vote but added that it was awaiting the reports of "independent observers on the technical merits of the ongoing referendum."
She also said that a clause in a Congress bill expected to pass on Friday allows the White House to unfreeze $1.5 billion in aid to Cairo if it can certify that Egypt "has held a constitutional referendum, and is taking steps to support a democratic transition."

Egyptian media came out in praise of Tuesday's first day of polling.

"Yes, even if criminals hate it," said a front page headline in Al-Waft, a private daily, referring to supporters of Morsi. "Egyptians choose their future as millions write history," said state-owned daily al-Gomhuria.

The Egyptian government hopes a large turnout in favor of the new constitution will bolster its disputed authority, while Sisi will monitor it for an "indicator" of his popularity, an official close to the general said.

Interim president Adly Mansour's government has pledged the referendum will be followed by parliamentary and presidential elections.

It is unclear how many Egyptians will have turned out to vote by the end of Wednesday, but the constitution appears certain to pass.

Backers of the constitution are hoping it will receive the support of at least 70 percent of votes cast.

The authorities are worried a low turnout would empower their Islamist opponents and cast further doubts on their legitimacy, analysts say.

[With AFP]