Lebanon's Hariri trial to continue 'for years'
STL's U.N. mandate expires on Feb. 2015, but the trial will unlikely finish in one year
The trial of four Hezbollah members accused of assassinating former Lebanese Prime Minister Rafiq Hariri will continue "for years," Chief prosecutor Norman Farrell said at The Hague on Thursday.

The U.N. mandate of the Special Tribunal for Lebanon (STL) is due to expire in February 2015, but given the complexity of the case, which involves listening to hundreds of witnesses and dealing with appeals, the STL's mandate is likely to be extended.
The investigation into the Feb. 14, 2005 truck bombing that killed Hariri and 22 others has lasted for years and first trial session opened in The Hague on Thursday without the suspects.
"We will proceed as if the accused are present in the courtroom and have pleaded not guilty," judge David Re told the STL. "The onus is on the prosecutor to prove their guilt."
Prosecutors officially charged the Hezbollah members of masterminding the blast that turned Beirut into a "man-made hell."
The suspects are: Mustafa Badreddine, 52, Salim Ayyash, 50, Hussein Oneissi, 39, and Assad Sabra, 37. They are all members of the Iran-backed Shiite movement Hezbollah.
The court also charged two Hezbollah leaders, Badreddine and Ayyash, of planning to assassinate Hariri three months before his killing.
Infographic: Special Tribunal for Lebanon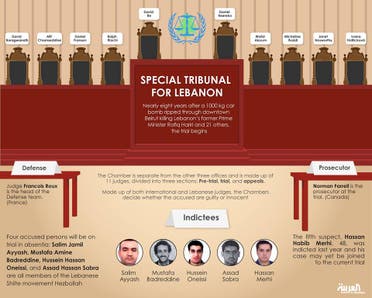 Special Tribunal for Lebanon

The STL is unique in international justice as it was set up to try the perpetrators of a terrorist attack and because it can try the suspects in absentia.
The four suspects have been charged with nine counts, ranging from conspiracy to commit a terrorist act to homicide and attempted homicide.
Chief Prosecutor Farrell said in his indictment that Badreddine and Ayyash "kept Hariri under surveillance" before the Valentine's Day suicide bombing, while Oneissi and Sabra allegedly issued a false claim of responsibility to mislead investigators.
Hariri, Lebanon's Sunni prime minister until his resignation in October 2004, was on his way home for lunch when a suicide bomber detonated a van full of explosives equivalent to three tons of TNT as his armored convoy passed.
'Historic Day'

Hariri's son, Saad - like his late father, also a former prime minister - was in The Hague to attend proceedings along with family members of the other victims.
"We demand justice and not vengeance," Hariri's son told reported in front of The Hague, saying that "violence should not be met with another violent act, but with upholding humanity, law, justice and faith in God."
He dubbed opening of the trial nine years after as a "historic day."
"We couldn't image among the Lebanese, there are people who sold themselves to Satan, and killed Hariri with such high amount of explosives," he said.
"The truth is hurtful, but it is the truth that will not allow those accused to escape justice."
He said terrorism and political assassinations in Lebanon have destroyed the country's peace.
"The court has opened the first page of real justice and put a corner stone to fight political assassinations and organized crimes," he
added.
Infographic: Assassination of Hariri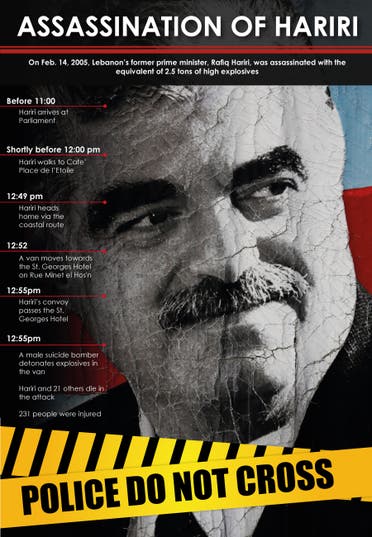 READ MORE ABOUT THE SPECIAL TRIBUNAL FOR LEBANON
Lebanon nine years on: what's changed since Hariri's killing?
Hariri trial: Meet the judges, prosecutors and the accused
Blast rocks Lebanon on day of trial
On the backdrop of the trial, a car bomb exploded in the Hezbollah bastion of Hermel, a town close to Lebanon's border with Syria, killing at least 3 people and wounding 26 others.
The explosion went off in front of a main government administration building.
"The attack took place at 8:55 am (0655 GMT), just as people were going to work," asecurity official said.
Speaking to Hezbollah's television channel, al-Manar, Lebanese Interior Minister Marwan Charbel said a suicide bomber was likely to have carried out the attack.
CLICK HERE TO READ MORE ABOUT THE SPECIAL TRIBUNAL FOR LEBANON
(With AFP and Associated Press)