Egypt PM pledges no return to military rule
Hazem el-Beblawi tells Al Arabiya Egyptians are more in control than ever before, but admits mistakes in dealing with media and public opinion.
In Davos, Egypt's interim Prime Minister Hazem el-Beblawi faces an enormous challenge heading his country's official delegation at the Annual Meetings of the World Economic Forum.
Accompanied by his Minister of Foreign Affairs Nabil Fahmy, Finance Minister Ahmed Galal, Investment Minister Osama Saleh and veteran 'Davosian' Amr Moussa (formerly the Secretary General of the Arab League and currently chairman of the Egypt's Constitutional Assembly), the delegation is here to convince a gathering of the world's most influential movers and shakers that Egypt is back on its feet and open for business.
However, as Egypt prepares to celebrate the third anniversary of the Jan.25 revolution which ousted the Mubarak regime, the mood in Davos was slightly skeptical on whether the 2011 revolution has actually achieved its goals.
One of the major concerns was the fact that Egypt's first post-Mubarak elected president, the Muslim Brotherhood-backed Mohammad Mursi, was also ousted in a counter-revolution which took to the streets last summer. Ever since, Egypt has witnessed the rise of its military strongman, General Abdel Fatah Al-Sisi. In Davos, PM Beblawi publically endorsed Sisi as a candidate for presidency.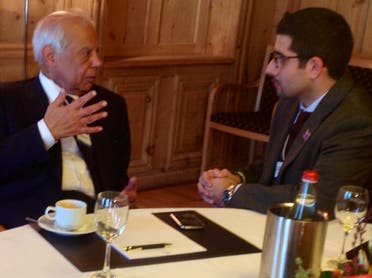 Speaking at the Annual Meeting, Bebalwi compared Sisi to De Gualle and Eisenhower, referring to the French and American war heroes, adding that Sisi is "under popular pressure" to run for the presidency.
"Those that are pushing Sisi to run are not the military camps, they are people in the streets, women in the first place," Beblawi said.
"Don't forget he is a handsome man," he added.
No return to military rule
Following an intense morning that began with a briefing with media leaders, a public speech, several meetings and a lunch where the 77-year PM entertained a number of Arab and international investors, Al Arabiya News caught up with el-Beblawi as he was about to enjoy a much-deserved afternoon coffee break.
Given his earlier statements regarding Sisi, an obvious question to ask the interim Prime Minister was if Egypt was in fact returning to military rule.
"This is something people have in their minds, in their imagination. I've been in the cabinet for about six months, I haven't felt any time that I am run by the military people," he said.
"I told you my conviction and I promised prior to my assuming a public office, that I think Egypt after January 2011 is immune to military dictatorship and military rule. On the contrary, people are much more in command than ever before."
As he sipped his black coffee, I asked the PM what he felt were people's concern and what was the vibe that he got in response to his attempt to re-introduce Egypt to the business community at Davos.
"I feel they are interested, they are asking questions, they want to know more. Still they have questions in their minds but there is a great interest definitely into what is going on and the future of the development in Egypt," said the Prime Minister.
Indeed, many Arab investors and business executives who Al Arabiya News spoke to prior to the interview did signal that they are considering a return to the Egyptian market. However, an overwhelming concern was the perception that all the decisions and initiatives that the Beblawi cabinet is putting in place might be only temporary, considering that the government is transitional.
"No, no, no. What we are doing is basically put the ground [work] for the future, during this transitional period that the constitution was accepted. This is not something to be looked upon as something of temporary importance. All we are doing is trying to reform the legal environment, to put the grounds for a much more investment-friendly legal environment," Beblawi said.
"We have put a law of anti-corruption which is the major concern of many people, … so we are very much concerned to lay the grounds, not to take temporary measures. On the contrary, we are trying to look into the heart of the problems rather than looking to find temporary solutions," the PM added.
GCC relations and Egypt's public image
Throughout the day, Beblawi repeated that Egypt is thankful for the financial support it has and continues to receive from neighboring Gulf countries.
When asked if he means all Gulf countries, the PM said that Qatar was an "exception" as it has given enormous political and financial support to Muslim Brotherhood.
"Qatar is an exception, not only in Egypt, I think Qatar's behavior is rather different from the rest of the [Gulf] countries," Beblawi said.
"All their relations, they have a rather different stand, and they must have their own reasons," he added diplomatically.
Beblawi mentioned more than once what he described as "contradiction" between how the 2011 revolution, which ousted President Mubarak, and the 2013 revolution, which ousted President Mursi, were received.
In his interview with Al Arabiya News, PM Beblawi admitted that Egypt has made several mistakes when it came to dealing with the media and public opinion.

"We (the government) thought that it is enough to work and not to speak to people, and we discovered to our dismay that we should have talked more to the people, to know what we are doing," he commented reflectively.
"We started to do this only recently, only after the last couple of weeks. Our failure to give enough attention to the media and the public opinion was another mistake we did."
Asked about imprisoned journalists, the Egyptian PM explained that for foreign journalists to operate, they need to register and follow the country's rules and regulations. He added that the proper legal procedures were being followed and that those concerned will be represented by a lawyer.