Zawahiri urges 'immediate' end to Syria Islamist fighting
Al-Qaeda chief calls on 'all jihadist groups and every free person' in Syria seeking to overthrow President Assad
Al-Qaeda chief Ayman al-Zawahiri called for an end to clashes between al-Qaeda-linked jihadists and Islamists fighting to oust Syria's regime, in an audio message posted on the Internet.

Zawahiri urged all jihadist groups and "every free person in Syria seeking to overthrow [President Bashar] al-Assad... to seek an end to fighting between brothers in jihad and Islam immediately," in the recording uploaded on YouTube late on Wednesday.

A new front in Syria's nearly three-year-old conflict opened in early January when powerful rebel groups combined to attack bases of the Islamic State of Iraq and Syria, or ISIS.
Infographic: Battle for control in Syria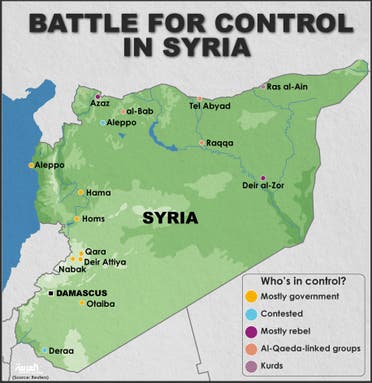 The jihadists were initially welcomed by other rebels, but allegations of brutal abuses against civilians as well as rival opposition fighters sparked a backlash, and even accusations that they were serving the interests of the regime.

In some cases, al-Nusra Front, the officially recognized al-Qaeda franchise in Syria, participated in fighting against ISIS whose leader Abu Bakr al-Baghdadi called for reconciliation on Sunday.

In Wednesday's audio message, Zawahiri said that "these organizational ties can be sacrificed without second thought if they conflicted with your unity... against your enemy."

"Jihadist groups are our brothers whom we refuse to accuse of apostasy," added the al-Qaeda chief.

Most rebels in Syria are Sunni Arab, and have fought against the regime of Assad, whose Alawite sect is an offshoot of Shiite Islam.

But ISIL has faced a rebel backlash in Syria and has been hit by days of fighting against a coalition of moderate and Islamist rebels, including with Nusra.

Baghdadi had sought to merge his group with Nusra, but they rejected the alliance and pledged allegiance directly to Zawahiri.

Since then, the two groups have functioned separately, though Nusra has remained largely neutral in the latest infighting, and the group's leader has called for an end to the clashes, warning it would benefit the regime.

But ISIS spokesman Abu Mohammed al-Adnani sounded a defiant tone in his own audio message earlier in January, calling for ISIS forces to "crush them (the rebels) totally and kill the conspiracy at birth."