HRW: Assad razed homes to 'punish' civilians
A Human Rights Watch report says the regime had intentionally demolished 200 football fields of residential land
Satellite imagery, witness statements and video and photographic evidence show that the Syrian regime intentionally leveled thousands of residential buildings to 'punish' residents, the Human Rights Watch said in a report released today.
The report, "Razed to the Ground: Syria's Unlawful Neighborhood Demolitions in 2012-2013," stated that nearly 140 hectares, or 200 football fields, worth of residential land were razed in Damascus and Hama.
Emphasis was put on the fact that many of the buildings were several stories high, leaving thousands homeless.
The 38-page report details the large scale demolitions carried out by President Bashar al-Assad's regime using explosives and bulldozers, actions that violate the laws of war.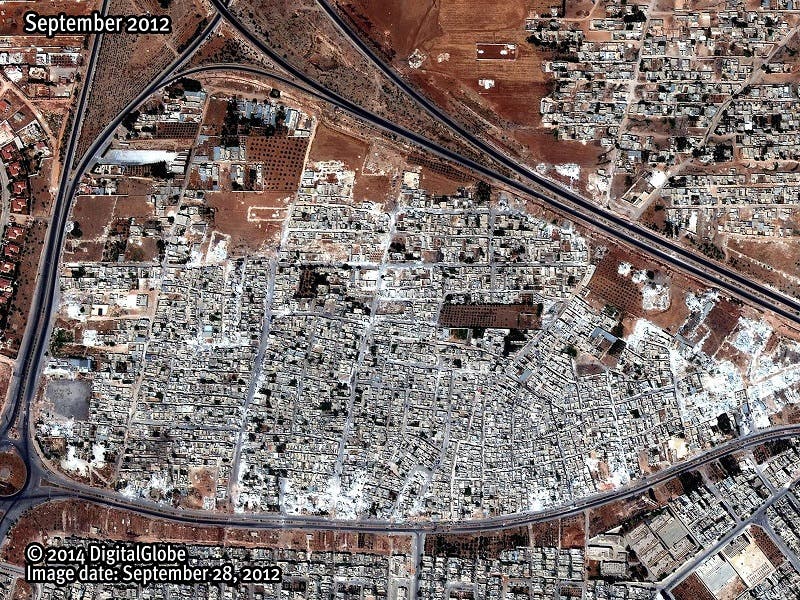 "Wiping entire neighborhoods off the map is not a legitimate tactic of war," said Ole Solvang, emergencies researcher at Human Rights Watch. "These unlawful demolitions are the latest additions to a long list of crimes committed by the Syrian government."
The New York based organization said the demolitions appeared to serve no military purpose and were carried out to punish the civilian population.
"After the demolition, the army came to our neighborhood, saying through loudspeakers that they would destroy our neighborhood like they destroyed Wadi al-Joz and Masha al-Arbeen should a single bullet be fired from here," a woman from a neighboring district told HRW.
The organization added that the demolished areas were considered opposition strongholds.
Jarring images included in the report show before and after pictures from the Wadi al-Joz district of Hama. The 'before' pictures show clusters of buildings between two main roads in April 2013. In the 'after' picture, only white spaces remained.
Condemning the attacks, the organization's report said "Those responsible for the wanton destruction of civilian property or for imposing collective punishment have committed war crimes and should be investigated and held to account."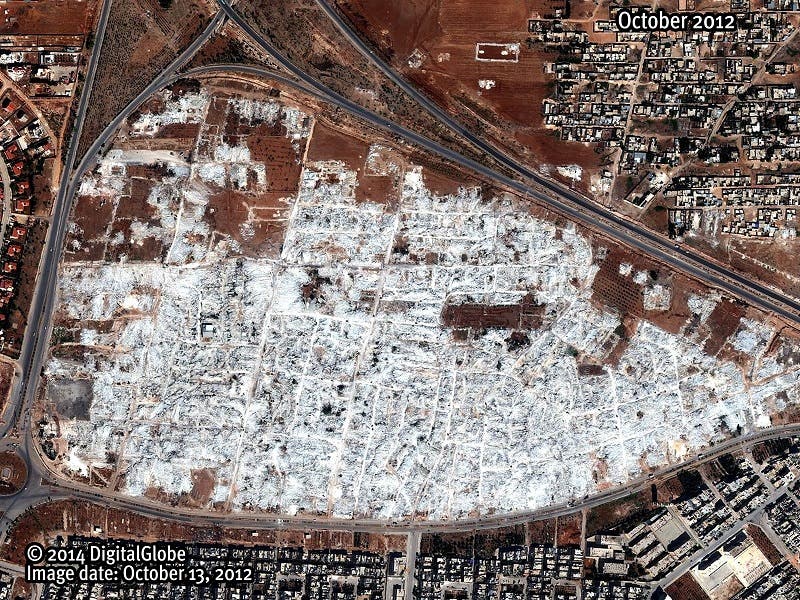 The seven cases Human Rights Watch documented took place between July 2012 and July 2013 in the following areas: the Masha` al-Arb`een and Wadi al-Jouz neighborhoods in Hama, and the Qaboun, Tadamoun, Barzeh, Mezzeh military airport, and Harran Al-`Awamid neighborhoods in and near Damascus.
Residents told Human Rights Watch that they were given little or no warning and did not receive compensation.
More than 130,000 people have been killed since Syria's conflict began in March 2011. Millions have been displaced inside the country or fled across its border becoming refugees.