Court postpones Mursi's murder trial
The ousted Islamist leader is accused of inciting the killing of opposition protesters in 2012 outside the presidential palace
Ousted President Mohammad Mursi's murder trial has been postponed to Feb. 4, Al Arabiya's correspondent reported Saturday.
The court also showed 13 out of 34 videos purportedly revealing aggression against protesters under the rule of Islamist President Mohammad Mursi, Youm7 newspaper reported Saturday.
Saturday's hearing at a heavily guarded police academy is the third session in the trial, in which Mursi and 14 others belonging to the Muslim Brotherhood leaders are accused of inciting the killing of opposition protesters in December 2012 outside the presidential palace.
The Islamist leader, who insisted at a separate hearing that he was still the legitimate president, was allowed by the court to speak.
"I am not hearing anything, and I need to reply to Ibrahim Saleh, head of the court; and we want to go and pray," Mursi, who was placed in a soundproof cage, said.
Mohammed el-Beltagy, another Muslim Brotherhood politician, said "we are not in a court, we are not hearing anything."
But for the rest of the trial, Mursi seemed silent, with his back facing the court.
Mursi's trial is seen as a test for Egypt's military-installed authorities.
Islamists in Egypt are increasingly franchised after the ouster of Mursi through a popularly-backed coup on July 3.
The army-backed interim government worked to quell Mursi's Muslim Brotherhood supporters when it arrested its top leadership and killed hundreds of the Islamist leader's followers, who urged his reinstatement.
Meanwhile, an Islamist coalition backing the deposed leader called for nationwide protests Saturday in a statement to "support the legitimate elected president."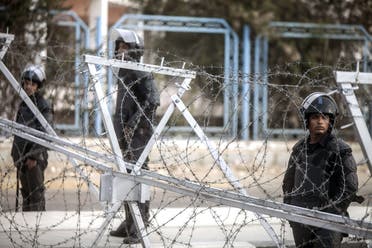 The previous session of the trial had been adjourned over "weather conditions" that prevented Mursi's transport to court from prison.
Mursi is facing four separate trials, and at the first hearing of another trial on Jan. 28 the defiant Islamist insisted he was still the legitimate president of Egypt.
In that trial, Mursi and 130 other co-defendants face charges of breaking out of prison during the 2011 uprising that ended Hosni Mubarak's three-decade rule.
New jihadist group formed
As Egypt continues with Mursi's trial, a new Egyptian militant jihadist group has formed and claimed responsibility for planting explosives and attacking security personnel and police stations in its first public statement, the Associated Press reported Saturday.
In a statement posted on a militant website late Friday, Ajnad Misr, or "Egypt's Soldiers," said it will fight the "regime's criminal organs," which it said were being used to humiliate the people and prevent them from performing religious duties.
It said it planted and detonated two explosive devices on a main highway on Cairo's outskirts on Friday. Interior Ministry spokesman Hani Abdel-Latif said the devices hit a vehicle carrying riot police and wounded an officer.
Earlier this week, militant group Ansar Bayt al-Maqdis confirmed that Ajnad Misr was responsible for the Jan. 24 bomb attack that targeted Cairo's Talbiya police station, which police said caused no casualties.
Meanwhile, the Egyptian army said it killed seven militants in an air strike in the Sinai Peninsula less than a week after jihadists downed a military helicopter in the restive region.

The army said the Thursday night air raid hit militants linked to the Muslim Brotherhood, which the military-installed authorities have designated a terrorist organization despite its repeated condemnation of jihadist attacks against the security forces.

(With the Associated Press and AFP)