Death toll rises to 119 killed in Aleppo after barrel bomb attacks
Most of the victims killed since Friday have been civilians from the city's eastern districts, including women and children
Syrian government helicopters and warplanes unleashed a wave of airstrikes on more than a dozen opposition-held neighborhoods in the northern city of Aleppo on Sunday, activists said, bringing the death toll to at least 119 people killed in the latest episode of a campaign many consider a war crime.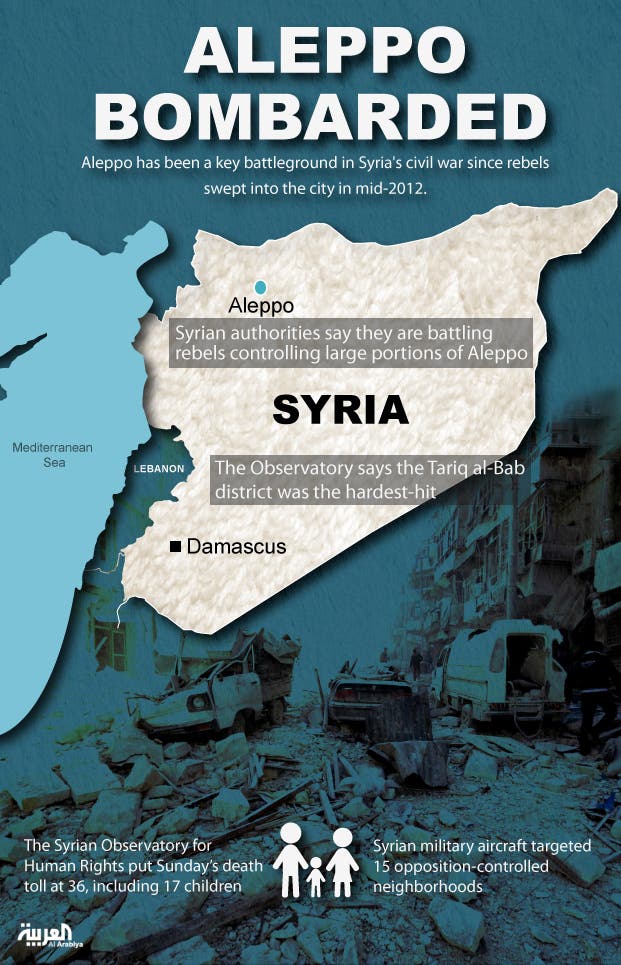 Aleppo has been a key battleground in Syria's civil war since rebels swept into the city in mid-2012 and wrested most of the eastern and southern neighborhoods from the government. Since then, the fighting has settled into a bloody grind, with neither side capable of mounting an offensive that would expel its opponents from the city.

But over the past two months, President Bashar al-Assad's air force has ramped up its aerial campaign on rebel-held areas of Aleppo, pounding them with barrel bombs - containers packed with explosives, fuel and scraps of metal - that cause massive damage on impact.

On Sunday alone, Syrian military aircraft targeted 15 opposition-controlled neighborhoods, said an activist who goes by the name of Abu al-Hassan Marea, according to The Associated Press.
The Britain-based Syrian Observatory for Human Rights monitoring group said the Tariq al-Bab district on the eastern edge of the city was the hardest-hit, with at least eight barrel bombs raining down on it Sunday. Marea said one of the air raids in the neighborhood struck a vegetable market and another landed near a mosque.

The Aleppo Media Center activist group said the strike near the Abdullah bin Masoud Mosque killed more than 10 people.

The Observatory put the day's death toll in the air raids at 36, including 17 children. Marea said that more than 50 people were killed in the airstrikes, although he did not have an exact count.

An amateur video posted online showed a helicopter circling in the blue sky, and then a barrel plummeting from the aircraft until it slams into buildings on the horizon, sending a pillar of smoke and dust into the air. The video appeared genuine and corresponded to other Associated Press reporting of the events depicted.
Most of the victims killed since Friday have been civilians from the city's eastern districts, including women and children, according to the British-based Syrian Observatory for Human Rights, which has a broad network of sources across Syria.
The use of barrel bombs - oil drums or cylinders packed with explosives and metal fragments - has drawn international condemnation, including from Syria's opposition delegation and their Western backers at recent peace talks in Switzerland.
The first round of negotiations wound up on Friday without making progress towards ending Syria's three-year civil war or reducing its violence, which regularly kills more than 100 people every day.
Western powers proposed a U.N. Security Council resolution in December to express outrage at the use of barrel bombs, which they say indiscriminately target innocent civilians. The weapons have killed well over 700 people in Syria in the past six weeks.
But Russia, a staunch ally of Assad, has repeatedly blocked such plans in the Security Council.
Syrian authorities say they are battling rebels controlling large portions of Aleppo, once Syria's business hub and largest city, which is now split between government and rebel forces, according to Reuters News Agency.
The Observatory said there was "heavy congestion" at a checkpoint in a southwestern neighborhood after the government closed it to traffic, preventing residents from fleeing the bombardment and related clashes further east.
The military also used barrel bombs in the suburbs of the capital Damascus over the weekend and carried out traditional shelling and air strikes in several other cities and villages around the country, the Observatory and other activists said.
Their reports could not be independently confirmed.
Rebel infighting
To the north of Aleppo, militants from the al-Qaeda-linked Islamic State in Iraq and Syria (ISIS) seized control of a border area with Turkey called al-Raa'i, the Observatory said.
ISIS freed more than 400 people from a prison in the area who had been held by the rival Islamist Liwa al-Tawhid unit, and clashes between the two groups continued nearby, according to the monitoring group.
In the eastern province of Deir al-Zor, ISIS also seized the Koniko Gas field from the Nusra Front and other Islamist rebels who had controlled it for several weeks after wresting it from tribal gunmen. Koniko is one of the largest gas plants in Syria.
Fighting between ISIS and rival factions seeking to push the group out of rebel-held swathes of northern and eastern Syria initially led to a rollback of ISIS dominance late last year along the border and in cities like Aleppo, Idlib and Raqqa.
But as the intra-rebel conflict has raged on, ISIS has retaken some of its bases. Both sides have lost more than 1,400 fighters in clashes and suicide car bombs.
Since March 2011, more than 130,000 people across Syria have been killed and nearly six million forced from their homes.
The conflict began with popular protests against four decades of Assad family rule but evolved into a civil war after a crackdown by security forces led to an armed uprising.