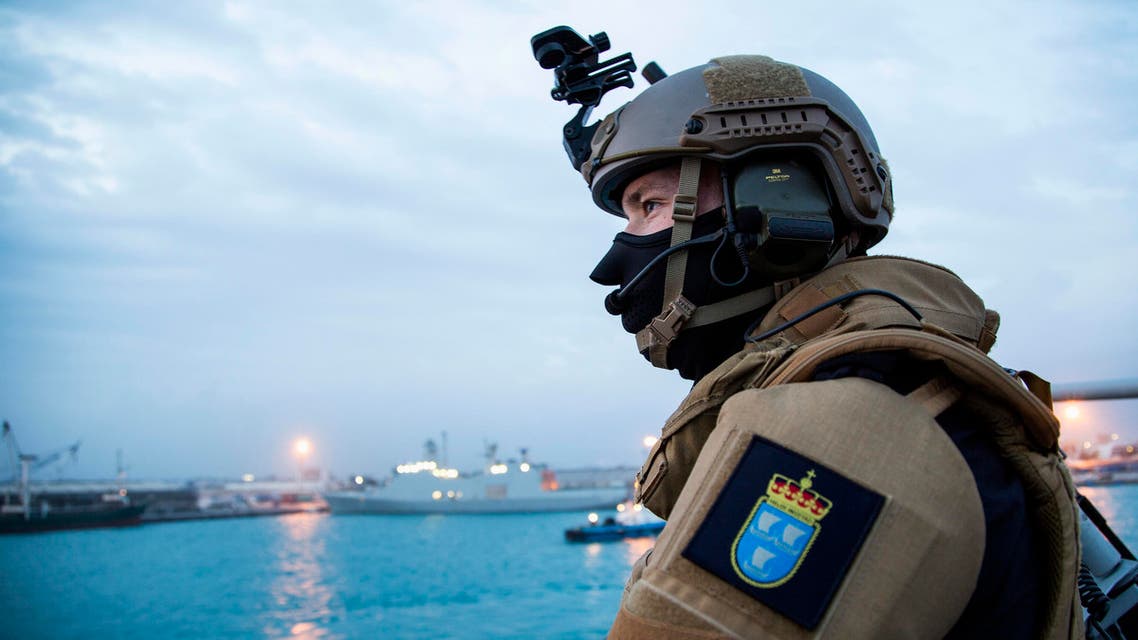 Syria to send off 'large chemical agents shipment'
Syrian officials were quoted as saying they were prepared to complete the removal of chemical weapons by March 1
Syria has announced plans to remove a large shipment of chemical weapons out of the country this month and is prepared to complete the removal process by March 1, Russian Deputy Foreign Minister Gennady Gatilov was quoted as saying on Tuesday.

"Literally yesterday the Syrian announced that the removal of a large shipment of chemical substances is planned in February. They are ready to complete this process by March 1," state-run Russia news agency RIA quoted Gatilov as saying.
The United States and Russia agreed last September to eliminate Syria's chemical weapons.
Elements of NATO are ready to destroy Syria's chemical weapons arsenal, after the United States expressed concern over the Syrian government's slow efforts to transport the toxic arms to its Mediterranean port, U.S. European Command chief Air Force Gen. Philip Breedlove told Al Arabiya News Channel in an interview aired Sunday.

"The international community, elements of NATO and the United States are prepared to destroy the chemical weapons," Ge. Breedlove, who is the 17th Supreme Allied Commander Europe of NATO Allied Command Operations, said.
"We have the existence requirements to address this issue in place, so we encourage Syria to be on schedule and on time to deliver the weapons, so we can get the task accomplished," he added.
Under a timeline drawn up last year, the most toxic chemicals in Syria's 1,300-metric-ton stockpile were to be removed from the country by Dec. 31. The deadline was missed due to poor security in war-torn Syria, among other factors.
So far, just two small consignments of chemicals have been shipped out.
The general urged for "less time" to "spend moving these weapons around," to minimize their "threat" by reducing its "exposure."
"So we encourage rapid, encourage prompt, encourage safe delivery of these weapons."
Around 700 tons of chemicals were supposed to have left Syria by the end of December, putting the ambitious disarmament project weeks behind schedule.
A senior U.S. State Department official said U.S. Secretary of State John Kerry pressed Russian Foreign Minister Sergei Lavrov to put more pressure on Damascus to make real progress on destroying its chemical weapons arsenal and repeated his concerns about the humanitarian situation.
Next round of peace talks
Meanwhile, Russian Deputy Foreign Minister Mikhail Bogdanov said on Tuesday the Syrian government will attend the next round of peace talks with the opposition, set to begin on Feb. 10 in Geneva,

"We have no doubt that the government delegation will take part in the second round of international talks in Geneva," Bogdanov told reporters before talks in Moscow.
Syria's opposition leader met Russia's top diplomat on Tuesday in a bid to persuade Moscow to pressure Damascus to agree to a transitional government for the war-scarred nation.

The talks between Syrian National Coalition chief Ahmad Jarba and Lavrov came after an inconclusive 10-day peace conference in Geneva broke up on Friday without a firm commitment from Damascus to attend a new round set for Feb. 10.

The so-called Geneva II talks were promoted jointly by Washington -- a firm backer of the Syrian opposition -- and Moscow -- an ally of the Damascus regime -- in a bid to convince the warring sides to sit down for direct negotiations for the first time.

But Syrian President Bashar al-Assad's team and the opposition made no progress on local ceasefires or permission for humanitarian corridors to some of the country's more devastated cities such as Homs.

(With AFP and Reuters)