Powerful Iraqi Shiite cleric Sadr quits politics
Muqtada al-Sadr said he is no longer involved in politics, highlighting corruption as the reason
Iraq's powerful Shiite figure Muqtada al-Sadr issued a statement on Saturday saying that he has quit politics and no longer has any political coalition representing him or his family.
Sadr, who enjoys a wide base support as leader of al-Sadr movement, comes from a prominent Shiite family and is the fourth son of a highly-respected Shiite cleric, the late Grand Ayatollah Mohammed Sadeq al-Sadr.
"No one has the right to represent Sadrists or speak on their behalf whether inside or outside the country," he said in his statement, adding "I announce my noninterference in politics, and from now there is no coalition that represent us and no position inside our outside movement or parliament."
The firebrand cleric, who has long expressed rejection for the U.S. presence in Iraq, highlighted corruption in Iraqi politics and the need to protect his "family's reputation" for his self-imposed removal from the political sphere.
"Starting from all the corruption that had occurred and could possibly take place from our political office inside and outside Iraq, and the need to end the suffering of the Iraqi people," he explained.
Headquartered in the poor district of al-Sadr city in Baghdad, the Sadrist movement has 40 members in the 325-seat Council of Representatives of Iraq.
His announcement comes as protesters took to the street in Baghdad to demand abolition of a law granting pensions to parliamentarians.
Infographic: Who is Moqtada al-Sadr?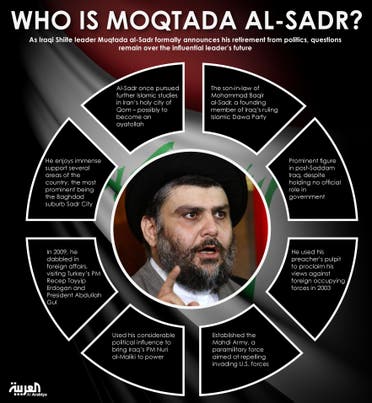 Iraqis have expressed their disdain over politicians reaping money from their country's oil while the people of the country are not benefiting.
For profile information about Muqtada al-Sadr, please click link: http://english.alarabiya.net/en/perspective/profiles/2014/02/16/Iraq-s-Sadr-cleric-militia-chief-and-kingmaker.html