UNHCR: Syrian boy only 'temporarily separated' from family
Marwan was later reunited with his family after being temporarily separated
Andrew Harper, the U.N. High Commissioner for Refugees representative in Jordan, said on Tuesday that a four-year-old Syrian had only been "temporarily separated" from his family, following reports that the boy had crossed the Jordanian desert alone.
"Just to let you know that Marwan was safely reunited with his mother soon after being carried across the #Jordan border ," Harper said on Twitter.
A photo of the refugee boy has gone viral on social media after claims he was wandering the desert in search of his family when he was really just meters behind them.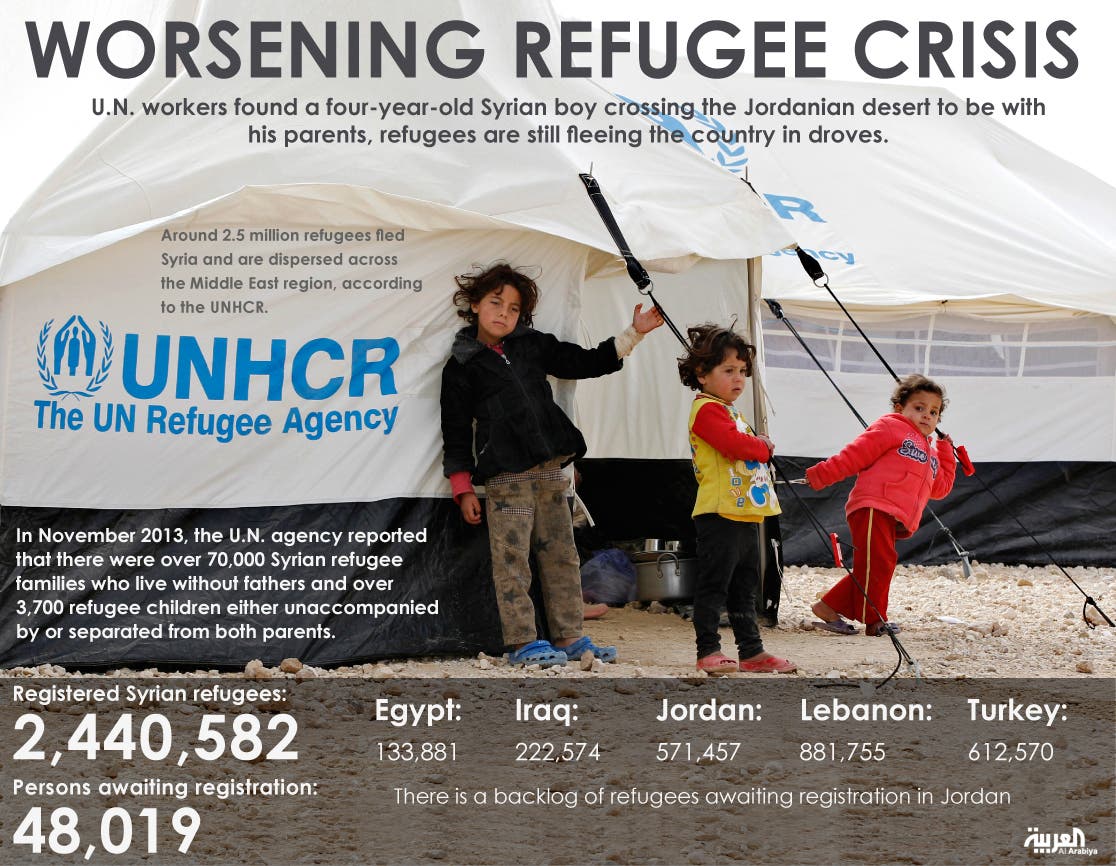 Several media retweeted the picture posted Sunday by Harper, saying the boy had crossed the desert on his own after being separated from his family and then been reunited with them.

The picture showed the boy, named Marwan, clutching a plastic bag in his hand as U.N. workers came to help him.
Harper accused the media on Tuesday of amplifying the story. "Original tweet said he was temporarily separated, it was the media who claimed he was alone not UNHCR," the UNHCR representative said on Twitter.
Another photo shows Marwan's family being only several steps ahead of him, with Harper stressing "he is separated, he is not alone."

"Marwan was not crossing alone; he was crossing with a wave of refugees. He was just at the back of the group," Harper told AFP, adding he had been separated for "minutes."

"When you have a group of refugees crossing you often have the most vulnerable lagging behind, so you have the people with wheelchairs, the women, the elderly, the sick and often the very young."

"When our team saw the young boy there... many other vulnerable people went there and helped him," he added.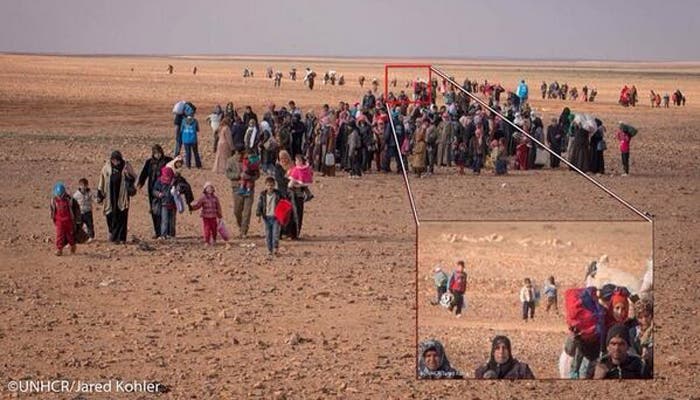 "The mother had other children and other luggage to carry and she had her both hands full so sometimes it's difficult to track all your children at one time. Marwan reunited with his family and we moved on."

Some 600-1,000 others also crossed with Marwan into Jordan, which is home to more than 500,000 Syrian refugees.

Marwan will be settled in the Zaatari refugee camp, home to more than 100,000 Syrians, Harper said.
Failed talks
"With the failure of the Geneva talks our teams are back at the east'n #Jordan border receiving #Syrian @refugees," Harper tweeted on Sunday.
A second round of U.S. and Russian-backed peace talks between representatives of Syrian President Bashar al-Assad's regime and the opposition broke down on Saturday in the Swiss city with no date set for a third round.
Saudi Arabia, United States, Britain and France have put the blame for the failure of the talks on the Syrian regime, who blacklisted opposition delegates at peace talks in Geneva on a "terrorist list" and seized their assets, including one of the delegate's houses, anti-government negotiators and a diplomat said on Saturday.
Diaspora
"As the teams finish, another truck of @refugees arrives. Day after day women & children continue to arrive 2 #Jordan," the U.N. representative added.
Around 2.5 million refugees have fled Syria and are dispersed across the Middle East region, according to the UNHCR.
In November, the U.N. agency reported that there were over 70,000 Syrian refugee families who live without fathers and over 3,700 refugee children either unaccompanied by or separated from both parents.
[With AFP]