Lebanon's Saad al-Hariri meets Sisi in Cairo
The trip marks the first by the top Lebanese politician since Egypt's Jan. 25 revolution
Former Lebanese Prime Minister Saad al-Hariri arrived in Egypt on Tuesday to meet Gen. Abdel-Fattah al-Sisi in Cairo.
The head of the Lebanese Future party is meant to discuss recent developments in Lebanon and foreign interference in its internal affairs, in addition to bilateral relations between the two countries, according to Ahram Online.
On his two-day visit, Hariri and his delegation of Lebanese officials are also scheduled to meet Egypt's interim President Adly Mansour and foreign minister Nabil Fahmy.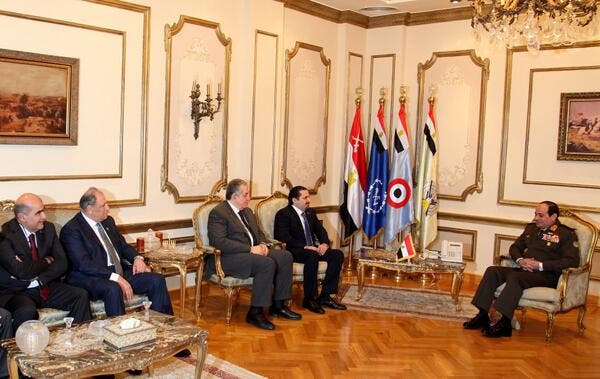 His delegation includes MPs Samir Jisr and Jamal Jarrah, former MPs Bassem Sabaa and Ghattas Khoury, his advisor Dr. Radwan al-Sayyed and M. Nader Hariri, said statements released by Saad Hariri's press office.
The trip marks the first by the Lebanese politician since the Jan. 25 revolution.
Lebanon has been rocked by a string of car and suicide bomb attacks in recent months, many of which targeted strongholds of the Hezbollah movement in apparent retribution for its role in Syria.
On Feb. 15, Lebanon formed a new cabinet after nearly a year of deadlock between rival political parties.
Sisi also met with high level officials in Russia last week, accompanied by Foreign Minister Nabil Fahmy.
The talks were meant to focus on bilateral relations and aspects of cooperation between the two countries.
The Egyptian general, who has been hugely popular since the ouster of Mohammad Mursi, is expected to stand in upcoming presidential elections, which he is likely to win by a landslide.